Please select your state
so that we can show you the most relevant content.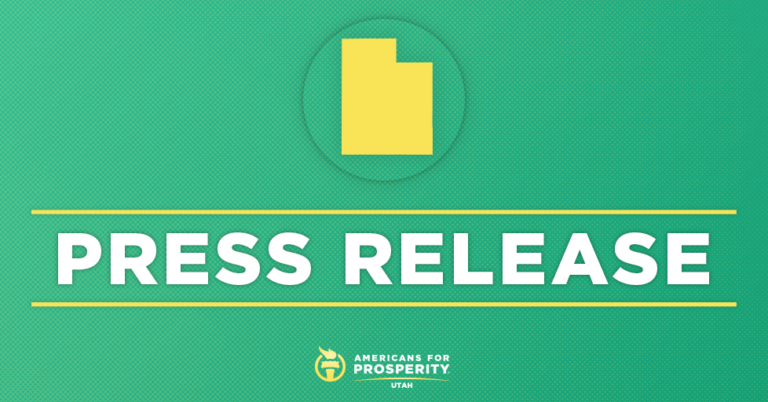 Americans for Prosperity Launches Statewide Event Series in Utah Against Biden's "Infrastructure" Spending Spree
SALT LAKE CITY – Today, Americans for Prosperity-Utah (AFP-UT) announced the launch of a statewide effort where the grassroots group will rally activists to encourage U.S. Sens. Mike Lee and Mitt Romney to reject Biden's "infrastructure" bill through a series of events across the Beehive State.
The event series will supplement existing layered digital and mail efforts as part of AFP's national campaign titled "End Washington Waste," which connects Americans across the country to the harms of, and better alternatives to, Washington's "infrastructure" proposal. The group seeks to highlight concerned citizens' opposition to the President's plan, leading to trillions in wasteful spending and higher taxes.
Tonight, AFP-Utah will host its first event, 'Any Way You Slice it, Biden's Infrastructure Plan is a Bad Deal' at Fat Daddy's Pizzeria in Provo, UT, starting at 7:30 PM.
AFP-UT State Director Heather Andrews issued the following statement:
"Utahns need to provide our leaders in Washington with the necessary support to vote down this bad bill and move us in a different direction on this issue. DC lawmakers should focus on prioritizing spending in the areas of greatest need and keeping taxes low. Instead, let's drive meaningful reforms that will truly improve our roads and bridges to help speed up our country's economic recovery."
The statewide event series will occur at the following dates and times:
July 13, 2021: 'Any Way You Slice it, Biden's Infrastructure Plan is a Bad Deal' at Fat Daddy's pizzeria 223 W Center St Provo, Utah 84601 at 7:30 pm
July 15, 2021: 'Pull the Pork' event at the GoGreen Dev Den 483 N 200 W Cedar City, Utah 84721 from 6-8 PM
July 22, 2021: 'Pull the Pork' event at Sizzler 1165 N Main St Logan, Utah 84341 from 6-7:30 PM
July 23, 2021: 'Smash Spending' event at Smash-It Rage rooms SLC 1154 S 300 W Suite D Salt Lake City, Utah 84101 at 7 pm
July 28, 2021: Lunch and Learn 'Pull the Pork' infrastructure and Trivia at AFP Utah office 3130 W Maple Loop Dr. Suite 203 Lehi, Utah 84043 at 12 pm
July 31, 2021: 'Shoot Down More Spending' event at Ready Gunner 1066 S State St Orem, Utah 84097 9 am
August 24, 2021: Pull the Pork' grassroots event with location and time TBD
© 2023 AMERICANS FOR PROSPERITY. ALL RIGHTS RESERVED. | PRIVACY POLICY