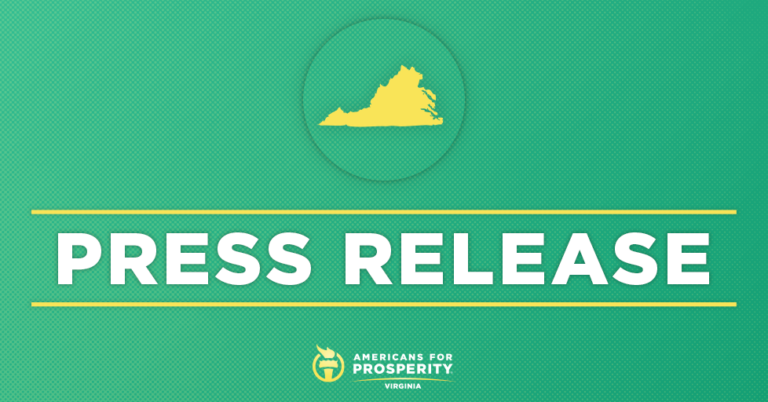 Americans for Prosperity Congratulates Governor-Elect Glenn Youngkin
RICHMOND, VA—Americans for Prosperity-Virginia (AFP-VA) today congratulates Virginia's newly elected Governor, Glenn Youngkin. Youngkin earned the support of AFP-VA for his commitment to increasing economic opportunity, expanding educational freedom, and improving health care for all Virginians.
The grassroots group threw its full support behind Youngkin, reaching nearly 900,000 voters at the door and on the phone in the final days ahead of the general election.
AFP President Tim Phillips issued the following statement:
"Virginians had a clear choice in this election – further empower the government or start to empower the people. Their message was crystal clear. Glenn Youngkin inspired Virginians with a positive alternative to an overreaching government seeking control over virtually every aspect of our lives and the future we are building for our children. This was a referendum on the partisan agendas being pushed by ideologues who have completely lost touch with concerns of everyday Americans. Glenn Youngkin spoke to what people truly care about; making life more affordable, getting people back to work, and putting people back in control of their lives. Leaders in Washington should pay close attention to the message that was sent tonight in Virginia."
AFP-VA State Director JC Hernandez issued the following statement:
"Our activists are excited to congratulate Glenn Youngkin on his well-deserved victory tonight. Youngkin has consistently advocated for Virginia families – rejecting bad policy such as wasteful spending proposals and fighting to put more money back in the pockets of hardworking taxpayers. His dedication to building a better future for families and businesses will help Virginians across the Commonwealth improve their lives and live their version of the American Dream. AFP-VA applauds its grassroots activists for their tireless efforts that helped elect a principled policy leader in Richmond."
Why Glenn Youngkin:
In October, AFP-VA announced its support of Glenn Youngkin in Virginia's gubernatorial race because:
Glenn Youngkin champions entrepreneurship and economic opportunity for all Virginians. Youngkin knows Virginia families are most concerned about making ends meet, providing for their loved ones, and the ever increasing price tag of everyday goods and services. As an experienced private sector businessman and entrepreneur, Youngkin has committed to cutting red tape that holds businesses back from creating jobs, fighting against tax hikes that take money out of the pockets of hardworking Virginians, and ensuring the spirit of entrepreneurship isn't squashed by limiting the ability of independent contractors to earn a living.
Glenn Youngkin is dedicated to improving health care for all Virginians. Youngkin is committed to ensuring more affordable health coverage is available for all families—from the Northern Virginia suburbs to the rural communities in Southwest Virginia. Youngkin's support for AFP-VA's long-term priority of repealing certificate of public need requirements to build new hospitals will help end harmful limits on hospital beds and quality care options for all Virginians. He also supports additional efforts to cut costs for families, such as expanding the availability of telehealth coverage, among others.
Glenn Youngkin supports the best education to build a bright future.  As a parent of four, Youngkin knows no two children are the same and our education system should reflect that. If elected, Glenn Youngkin will support educational opportunity for all Virginia's students to learn in an environment that meets their unique needs.