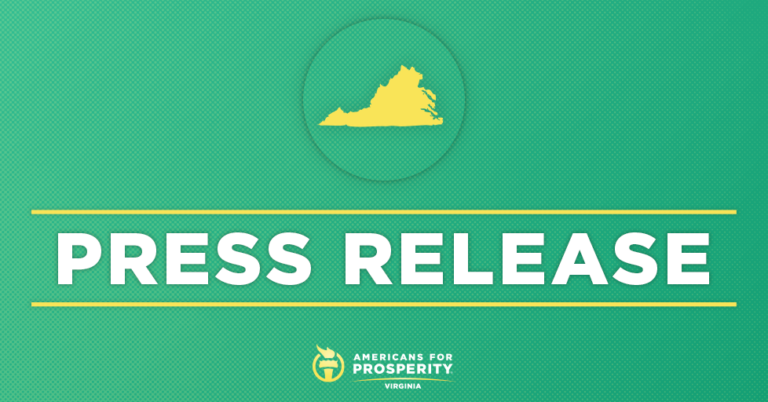 Americans for Prosperity Backs Glenn Youngkin in Tight Gubernatorial Race
Grassroots organization throws support behind candidate with the policy leadership potential to build a brighter Virginia
RICHMOND, VA—Americans for Prosperity-Virginia (AFP-VA) today announced its support for candidate Glenn Youngkin ahead of November's election for the next Governor of the Commonwealth. The grassroots organization identified Youngkin as a leader and uniter with the ability to break down partisan barriers in Richmond and implement policies that will help all Virginians improve their lives.
The announcement will be paired with a significant six-figure digital campaign launching at the end of this week, which will highlight how misguided policies have increased the cost of living and made life harder to afford. Additionally, AFP activists will hold a kick-off rally at their Richmond headquarters on Monday, October 11th where activists will gather to hear from AFP President Tim Phillips before engaging directly with voters.
AFP-VA State Director JC Hernandez issued the following statement:
"We can't wait to tap into the energy and excitement of thousands of AFP's grassroots activists to connect voters to Glenn Youngkin's positive vision. As a businessman and entrepreneur, Youngkin understands the pressure Virginian families feel as budgets tighten, costs increase, and success gets harder to find. It doesn't have to be this way. Glenn Youngkin knows the policies it takes to make life more affordable and expand opportunity to all Virginians. We're ready to work day and night through the Election to help him make that vision a reality."
Glenn Youngkin champions entrepreneurship and economic opportunity for all Virginians. Youngkin knows Virginia families are most concerned about making ends meet, providing for their loved ones, and the ever increasing price tag of everyday goods and services. As an experienced private sector businessman and entrepreneur, Youngkin has committed to cutting red tape that holds businesses back from creating jobs, fighting against tax hikes that take money out of the pockets of hardworking Virginians, and ensuring the spirit of entrepreneurship isn't squashed by limiting the ability of independent contractors to earn a living.
Glenn Youngkin is dedicated to improving health care for all Virginians. Youngkin is committed to ensuring more affordable health coverage is available for all families—from the Northern Virginia suburbs to the rural communities in Southwest Virginia. Youngkin's support for AFP-VA's long-term priority of repealing certificate of public need requirements to build new hospitals will help end harmful limits on hospital beds and quality care options for all Virginians. He also supports additional efforts to cut costs for families, such as expanding the availability of telehealth coverage, among others.
Glenn Youngkin supports the best education to build a bright future.  As a parent of four, Youngkin knows no two children are the same and our education system should reflect that. If elected, Glenn Youngkin will support educational opportunity for all Virginia's students to learn in an environment that meets their unique needs.
Background:
AFP-VA is also supporting a number of state legislative candidates and current House of Delegates members dedicated to building broad-based policy coalitions in November's elections.
Paid for by Americans for Prosperity. Not authorized by any candidate or candidate's committee.