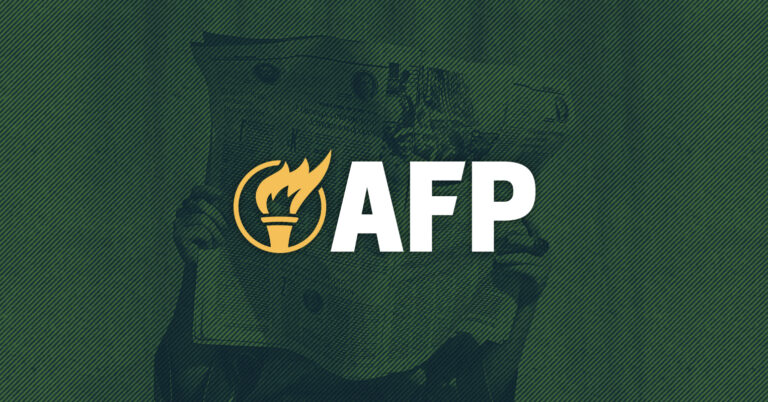 Americans for Prosperity Announces Formation of New Advisory Council to Grow Grassroots Movement on Key Policy Issues
Arlington, VA – Today, Americans for Prosperity is announcing the formation of an Advisory Council of like-minded thought leaders who share our vision of how freedom and opportunity are the keys to unlocking the potential of all people to live lives of meaning and prosperity. The council will work alongside AFP's leadership team to provide strategic guidance on how to build and grow grassroots movements on key issues, help energize and mobilize the broader AFP community, and be ambassadors for AFP's approach to policy and politics.
While the council is comprised of individuals with varying backgrounds and perspectives, each brings a life's passion for advocating policies that empower people and improve lives and an expertise that will help AFP build on its success and reach new heights. Initial members of the council include: former SEC Commissioner Paul Atkins, Fox News radio host and Political Editor of Townhall.com Guy Benson, syndicated radio host and editor of The Resurgent Erick Erickson, former Congressman Jeb Hensarling, former Florida House Speaker Jose Oliva, and businessman Jim Stephenson.
"We couldn't be more excited to be welcoming this incredible group to our AFP family," said AFP President and CEO Emily Seidel. "Each of these individuals has played an essential role in helping to advance our shared vision over many years and change the way people understand the power of freedom and opportunity to transform lives for the better. The formation of this Advisory Council allows AFP to learn from some of the most thoughtful, strategic, and principled minds across policy, communications, and business, and expand our reach to millions more people who are looking for a better way to make a difference."
AFP has worked with each member of the Advisory Council to partner on key issues in the past. This formal partnership will open the door to consistent collaboration around tactics and strategy as AFP works to be the number one preferred partner of concerned citizens looking for a better way. Grounded in the shared belief that the best path to prosperity is by expanding freedom and opportunity to empower every American to pursue their dreams, this Council will play a key role in driving AFP's mission to help every American reach their fullest potential.
The Americans for Prosperity Advisory Council
Paul Atkins is CEO and founder of Patomak Global Partners, a consulting firm that provides strategic risk management and regulatory compliance services, corporate governance advice, and enforcement and litigation support in Washington, D.C. He previously served as Commissioner of the Securities and Exchange Commission.
Paul Atkins on Joining the Advisory Council: "In my time at the SEC, I advocated for transparency, consistency, and cost-benefit analyses to facilitate a competitive, pro-growth market for the American people, and I continue to do so in the private sector. These should be goals for any policymaker who believes in creating a prosperous environment for our country.  Another principle for a flourishing marketplace is accountability, and Americans for Prosperity with its expansive grassroots network strives to achieve that and other crucial policy goals every day. I look forward to working with an organization so widely respected for its years of work successfully championing pro-growth principles and policies in Washington, DC, and across the country to support a freer and more prosperous America."
Guy Benson is a Fox News Contributor, Political Editor of Townhall.com, and the host of the nationally-syndicated 'Guy Benson Show' on Fox News Radio. Guy has served as a Media Fellow at Stanford University's Hoover Institution, and a Visiting Fellow at both Harvard and Georgetown Universities' Institutes of Politics.
Guy Benson on Joining the Advisory Council: "I'm thrilled to be expanding my partnership with Americans for Prosperity, having worked alongside their superb team and army of grassroots activists throughout my career. Certain political talking points go in and out of fashion, but fundamental principles must not change.  Throughout this tumultuous era — including within the conservative movement — AFP has never wavered in its advocacy on behalf of enduring ideas and responsible policies. That matters. Republicans and Democrats need to be held accountable, especially on long-term debt and unsustainable spending.  I'm proud to be associated with an organization dedicated to doing just that."
Erick Erickson is the host of the Erick Erickson Show. Erick focuses on the intersection of politics, news, culture, and events. Erick served as Editor-in-Chief of RedState.com for 10 years and was a regular political contributor to CNN and Fox News.
Erick Erickson on Joining the Advisory Council: "As someone who used to run campaigns and now covers elections on radio and TV, I know the importance of grassroots political engagement. Americans for Prosperity wrote the playbook on engagement, principled leadership, and political strength. The ways that we engage voters may change, but AFP's unwavering commitment to the policies and pocketbook issues that Americans care about and the energy and enthusiasm they bring to critical policy fights sets them apart and has me excited to be a part of its team."
Jeb Hensarling served in the U.S. Congress for eight terms, including three terms as chairman of the powerful House Financial Services Committee.
Jeb Hensarling on Joining the Advisory Council: "Americans for Prosperity's record of substantive policy ideas and a strategy to implement them has made it a leader in policy reform conversations at the federal and state levels. I enjoyed working with AFP on fiscal and regulatory issues when I served in the House, and its powerful voice for fiscal responsibility is needed now more than ever amid unchecked government spending. I am delighted to work with AFP to advance its priorities as we work to help put America's fiscal house in order and unleash our true economic potential."
Jose Oliva was elected to the Florida House of Representatives to serve the 110th district in 2011 and was elected by his colleagues to serve as the speaker of the Florida House from 2018–2020. Throughout his legislative career, he has worked to prevent government overreach and create a small, accountable government.
Jose Oliva on Joining the Advisory Council: "I have worked closely with Americans for Prosperity dating back to my time in the Florida House of Representatives and in my tenure as Speaker of the Florida House. Irresponsible government spending and corporate cronyism is a persistent threat to the economic health of our country and the pockets of hardworking Americans. The effects of bad economic policy are clear to everyone that shops at the grocery store or fills up at the gas pump. I have stood against wasteful government and corporate handouts throughout my career and amid pressure from all sides. AFP was there for me with its policy know-how and extensive grassroots, and I'm excited to help them work with other principled lawmakers to do the right thing."
Jim Stephenson serves as chairman of Yancey Bros. Co., a 100-year-old family-owned business that offers Caterpillar and Blue Bird products, parts, and services at 25 facilities in 19 communities across the state of Georgia. He has served on the board of Americans for Prosperity.
Jim Stephenson on Joining the Advisory Council: "After working with Americans for Prosperity for years as a board member, I am honored to continue my involvement with the group as a member of the Advisory Council. I am deeply proud of the grassroots network AFP has built and our dedicated team who has led the charge to numerous policy wins that drive economic growth. I look forward to supporting AFP's mission alongside other members of the Advisory Council."