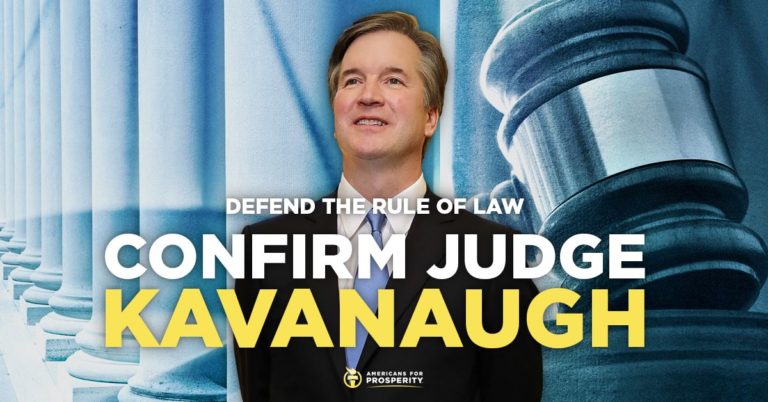 AFP-WV Launches Robust Mail and Digital Campaign Supporting Judge Brett Kavanaugh's Confirmation to the U.S. Supreme Court
Charleston, W. Va. – Americans for Prosperity today announced a six-figure direct mail and digital ad campaign as part of the organization's multimillion-dollar effort to support Judge Brett Kavanaugh's confirmation to the U.S. Supreme Court. This week, Mountaineers will receive mailers highlighting Judge Kavanaugh's demonstrated commitment to defending the Constitution and interpreting the law as written – not legislating from the bench—asking them to contact Senator Manchin and urge him to support Judge Kavanaugh's nomination.
A new thirty second digital ad, and website, UniteForKavanaugh.com, was also unveiled today and will accompany the mail effort by urging Americans to tell Senator Manchin to support Judge Kavanaugh's confirmation.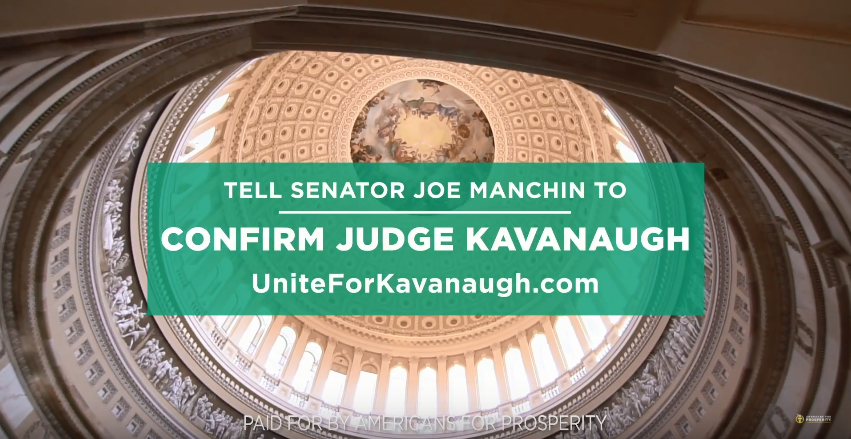 View an example of the mail here: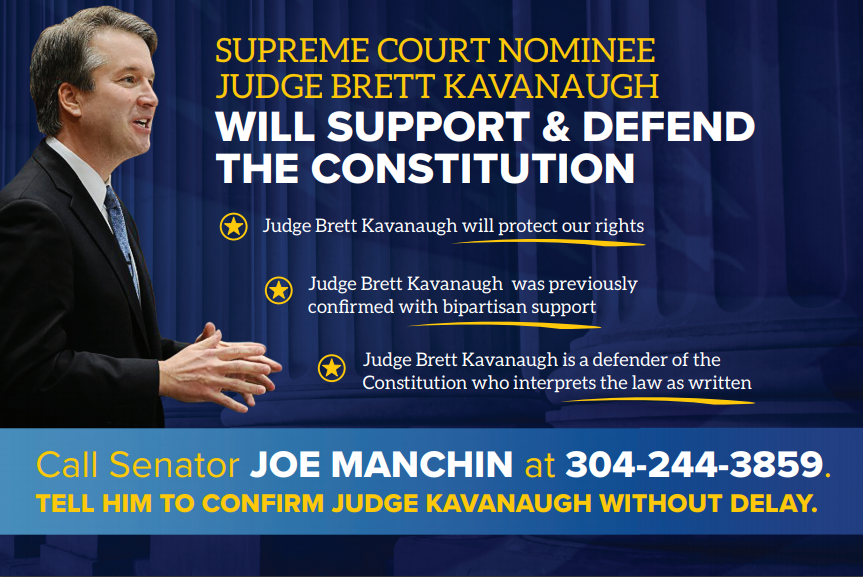 Americans for Prosperity-West Virginia State Director Jason Huffman issued the following statement:
"Mountaineers want Judge Kavanaugh on the Supreme Court. Judge Kavanaugh has a rock-solid record of being a restrained jurist who does not legislate from the bench and we expect the West Virginian voices calling for his confirmation will only grow louder. If Manchin truly wants a nominee who follows the 'rule of law and the Constitution,' then we hope through this effort he finds that Kavanaugh is his guy. Judge Kavanaugh's confirmation would be a historic opportunity for the American people. As activists across West Virginia mobilize to urge Sen. Manchin to support Judge Kavanaugh we hope the senator gets off the fence and recognizes that a vote against Kavanaugh is a vote against the will of West Virginia."
Background on Americans for Prosperity efforts:   
Americans for Prosperity has committed seven figures to paid advertising and grassroots engagement in support of Judge Kavanaugh's confirmation. Door and phone scripts have already been deployed to each of the 36 AFP state chapters, and this is the first round of mail, door hangers and digital ads that will be deployed in West Virginia, Indiana, North Dakota, Florida, Missouri, Pennsylvania, Montana, Ohio, Michigan, and Alabama.  AFP will host events, tele-townhalls, and Facebook Live conversations with key lawmakers about the proper role of courts, and the importance of confirming judges who interpret the law as written.
More information on Judge Kavanaugh:  
Brett Kavanaugh, a graduate of Yale Law School and former clerk to Justice Anthony Kennedy, received bipartisan support in 2006 for his confirmation to the U.S. Court of Appeals for the District of Columbia Circuit. During his 12 years on the federal bench, Judge Kavanaugh has demonstrated a commitment to the rule of law and is widely respected for his principled approach to interpreting the Constitution as written.
For further information or an interview, reach Jason Huffman at JHuffman@afphq.org. 
Americans for Prosperity (AFP) exists to recruit, educate, and mobilize citizens in support of the policies and goals of a free society at the local, state, and federal level, helping every American live their dream – especially the least fortunate. AFP has more than 3.2 million activists across the nation, a local infrastructure that includes 36 state chapters, and has received financial support from more than 100,000 Americans in all 50 states. For more information, visit www.americansforprosperity.org
###