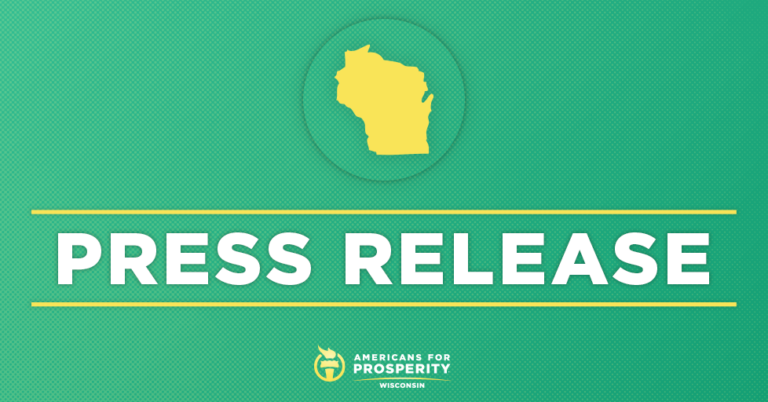 AFP-WI to Lawmakers: Stand Up for Worker Freedom!
Assembly Committees Consider Employment Law Standardization,  Civil Asset Forfeiture Reform, Winery Hours Extension
MADISON, WI – Americans for Prosperity-Wisconsin (AFP-WI) today urged lawmakers to approve Assembly Bill 748, the Employment Law Standardization Act. The measure was the focus of an executive session in the Assembly Committee on Local Government today. AFP-WI activists are calling upon the Committee and the full Assembly to schedule votes on the measure swiftly so they can be approved before this year's regular legislative session draws to a close. Wisconsin job creators are currently forced to spend money and man-hours to navigate the labor and human resources laws of 1,923 different localities across the state.  Special interests can take advantage of this patchwork by using their political connections to get special treatment from local politicians they support. AB 748 would provide a statewide standard for employment law, giving employers the regulatory certainty and clarity they need to start and grow their businesses. Two other pro-freedom reform bills backed by AFP-WI, Assembly Bill 122 and 433, were also considered by  Assembly Committees in Madison today.
Americans for Prosperity-Wisconsin State Director Eric Bott made the following statement on AB748:
"Sadly, good intentions don't always lead to positive results. Often, the very workers meant to benefit from local labor regulations end up hurting the most. Moreover, Wisconsin job creators, particularly small businesses, cannot afford to keep up with a confusing patchwork of nearly 2,000 different labor laws. Navigating the current maze of red tape drains employers of time, money and effort that could be better spent investing in their businesses, communities and employees. AFP-Wisconsin activists call on all Assembly members to schedule a vote on this important measure so it can go to Governor Walker's desk for his signature."
Civil Asset Forfeiture Reform Bill – AB 122 reforms Wisconsin's civil asset forfeiture laws which allow law enforcement to seize private property if they merely suspect it has been involved in a crime.
Eric Bott said of AB 122:
"AFP-Wisconsin commends the Assembly Committee on State Affairs for holding a hearing on civil asset forfeiture reform. AB 122 is a fair, commonsense reform measure that will protect Wisconsinites from having their property unjustly seized. Passing this commonsense reform allows police to obtain property from those convicted of a crime, but protects the property rights and due process rights of innocent citizens. We call on lawmakers to approve this bill and send it to Governor Walker's desk swiftly."  
Winery Hours Extension Bill – AB 433 allows Wisconsin wineries to serve customers until Midnight. This bipartisan bill, passed unanimously out of committee today, making changes to current Prohibition-era state laws that prohibit wineries from serving after 9pm.
Eric Bott said of AB 433:
"Lots of Wisconsinites would love to hold their weddings, birthday parties, and family outings at wineries. But unnecessary and outdated Prohibition-era regulations are preventing them from having their special events at these fine Wisconsin small businesses. AB 433 fixes this problem by giving consumers greater choice, boosting state tourism, and jumpstarting economic activity. The current law serves no purpose other than to protect entrenched special interests from competition by small wineries. It is bad for the economy, bad for consumers, and hurts the little guy."