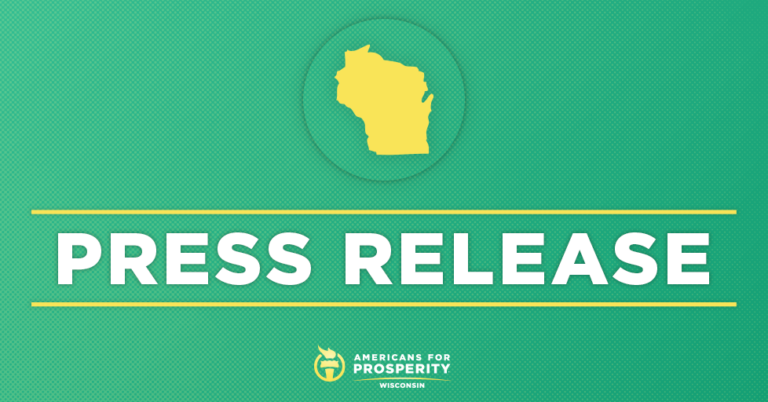 AFP-WI Launches New Wave of Grassroots Lobbying Efforts
MADISON, Wis. – Americans for Prosperity-Wisconsin (AFP-WI) on Tuesday announced a new wave of grassroots investment to educate Wisconsinites about recent legislative action on taxes and the state budget. The group will mobilize activists throughout the state to canvass communities, have conversations with their neighbors, and ask them to encourage their lawmakers to work toward policies that expand opportunities for Wisconsinites.
This wave of the group's lobbying efforts encourages citizens to thank the members responsible for crafting and passing a budget that will help improve the lives of Wisconsin families and ask for continued work on expanding opportunity in Wisconsin. The effort will also hold certain members accountable to their votes and urge them to support future efforts to cut taxes for middle-class Wisconsinites.
View sample door hangers:
AFP-WI State Director Eric Bott issued the following statement:
"This budget helped protect reforms that have drastically improved Wisconsin as a place in which to live, work, and raise a family. When lawmakers make hard decisions, take the tough votes, and stand on principle, we want them to know we and the people of Wisconsin have their backs. Similarly, when lawmakers take votes that jeopardize Wisconsin families' prosperity, we won't hesitate to let their constituents know. We look forward to continue working with all lawmakers toward policies that make it easier for all Wisconsinites to improve their lives."
The passed budget is a marked improvement on the budget Gov. Evers had initially proposed, which would have restricted educational freedom, repealed numerous pro-growth labor reforms, and increased taxes. AFP-WI believes the budget could be improved but applauds the legislature for the reforms it was able to secure.
AFP will be contacting citizens in the districts of the following Joint Committee on Finance members for helping to craft the budget:
Sen.  Devin LeMahieu, Sen. Duey Stroebel, and Rep. Shannon Zimmerman.
AFP will be contacting citizens in the districts of the following lawmakers for voting for the budget:
Sen. Dan Feyen, Sen. Pat Testin, and Reps. Barb Dittrich, Mary Felzkowski, Rob Hutton, Jesse James, Dan Knodl, Jon Plumer, and Joe Sanfelippo.
Finally, AFP will be engaging with constituents from the following lawmakers' districts after their votes against the budget and tax cuts for middle class Wisconsinites:
Sen. Patty Schachtner, Sen. Jennifer Shilling, and Rep. Robyn Vining.
Background:
AFP-WI Kicks Off New Grassroots Lobbying Efforts (4/17/19)
AFP-WI Announces Next Wave of Grassroots Lobbying Efforts (5/2/19)
AFP-WI Statement on Budget (6/26/19)
For further information or an interview, reach Lorenz Isidro at LIsidro@afphq.org or (703) 887-7724. 
Through broad-based grassroots outreach, Americans for Prosperity (AFP) is driving long-term solutions to the country's biggest problems. AFP activists engage friends and neighbors on key issues and encourage them to take an active role in building a culture of mutual benefit, where people succeed by helping one another. AFP recruits and unites Wisconsinites behind a common goal of advancing policies that will help people improve their lives. For more information, visit www.americansforprosperity.org
###