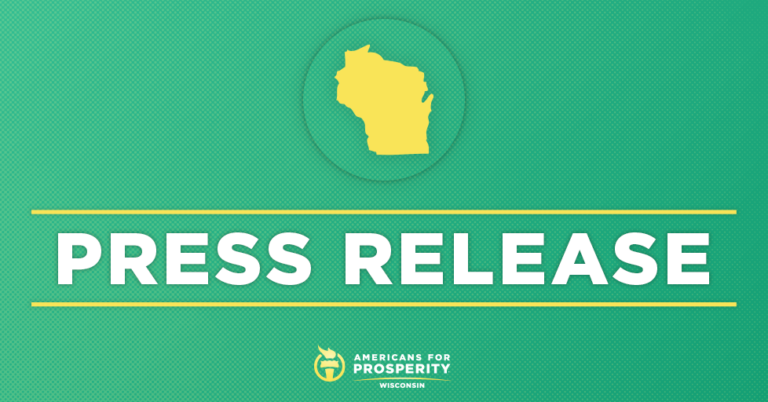 AFP-WI Closes Out Second Chance Month with New Campaign
Grassroots group applauds legislative leaders for making important progress on smart on crime reforms
MADISON, Wis. – Americans for Prosperity-Wisconsin (AFP-WI) today launched a direct mail and digital campaign encouraging Wisconsinites to contact elected officials who have led on policies to reform the criminal justice system during the 2019 legislative session and urge continued action around these important reforms. The campaign is part of a national six-figure effort highlighting progress across 10 states and comes as the nation recognizes Second Chance Month.
AFP-WI's campaign highlights Rep. Evan Goyke, Rep. David Steffen, and Sen. Alberta Darling's leadership on criminal justice reform and thanks them for introducing the Pathways to Employment Act, a bipartisan expungement reform bill that makes smart reforms to Wisconsin's criminal justice system to help open doors for people who have paid their debt to society.
AFP-WI State Director Eric Bott released the following statement:
"Being smart on justice will create new opportunities for Wisconsinites, save taxpayer dollars, and make our state safer. We applaud these lawmakers for helping create meaningful reforms to Wisconsin's criminal justice system. This bill will help people get back on their feet and improve their lives by lowering barriers to get a job or an education. We encourage the legislature to continue pursuing policies that are smart on crime and soft on taxpayers, and we invite anyone who supports this approach to criminal justice to join us."
Background:
Last week, AFP-WI announced a new grassroots effort to educate Wisconsinites and urge them to ask their lawmakers to advance the group's legislative priorities. The group said it will mobilize activists throughout the state to canvass communities and have conversations with their neighbors about recent legislative action on criminal justice reform and other issues.
AFP-WI testified before the Senate Committee on Judiciary and Public Safety in support of the Pathways to Employment Act. Read the testimony here.
Under current Wisconsin law, a court may a expunge a person's criminal record of a crime if the person committed that crime before the age of 25, the person had not been previously convicted of a felony, the crime was not a violent felony, and the maximum term imprisonment for said crime is six years or less. Current law also allows that expungement orders can only be made at sentencing. Wisconsin is the only state that requires judges to determine expungement eligibility when somebody is sentenced, instead of when they are released, and is one of only 7 states that limits expungement opportunities based on people's age when they committed a crime.
The Pathways to Employment Act allows expungement eligibility for people sentenced over age 25, removes the expungement-ordered-at-sentencing requirement, and allows retroactive application of these reforms.
For further information or an interview, reach Lorenz Isidro at LIsidro@afphq.org or (703) 887-7724. 
Through broad-based grassroots outreach, Americans for Prosperity (AFP) is driving long-term solutions to the country's biggest problems. AFP activists engage friends and neighbors on key issues and encourage them to take an active role in building a culture of mutual benefit, where people succeed by helping one another. AFP recruits and unites Wisconsinites behind a common goal of advancing policies that will help people improve their lives. For more information, visit www.americansforprosperity.org
###