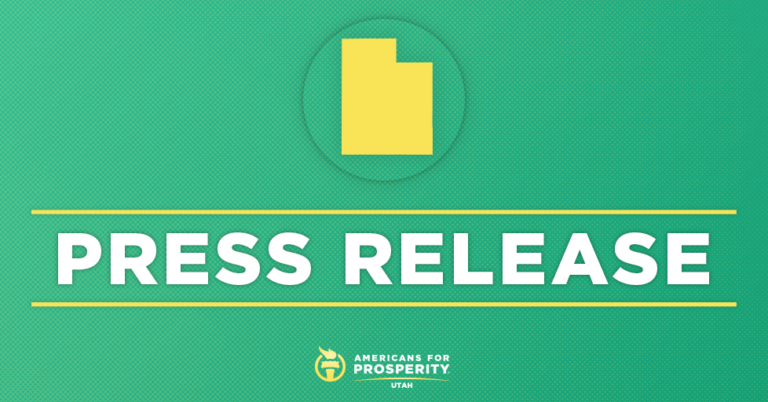 AFP-UT Launches Mail and Digital Campaign Thanking Rep. McAdams, Sen. Lee for Opposing Bad Budget Deal
Grassroots group praises Rep. McAdams, Sen. Lee for standing up for fiscal responsibility  
SALT LAKE CITY, UT – Americans for Prosperity-Utah (AFP-UT) today launched a new direct mail and digital effort thanking U.S. Rep. Ben McAdams and U.S. Sen. Mike Lee for taking a principled stand for fiscal responsibility by voting against the Bipartisan Budget Act of 2019.
This campaign comes as lawmakers are still home in their districts and preparing to return to Washington to work on the 12 annual must-pass appropriations bills. The direct mail and digital ads follow a month-long grassroots effort to visit district offices urging lawmakers to rein in spending and reject harmful policies like tax extenders and the reauthorization of the Export-Import Bank.
View the Sen. Lee digital ad here
View the Rep. McAdams digital ad here
"Reckless spending by both parties threaten our country's long-term economic growth, while placing an unbelievable burden on future generations. Rep. McAdams and Sen. Lee's opposition to this reckless budget are the principled votes that will help prevent our country's long-term fiscal situation from becoming even worse," said Heather Williamson, AFP-UT State Director. "We are making sure Utahns know these lawmakers are working to change the status quo and are standing up for our country's economic future. AFP will continue to work with and applaud anyone who is helping put an end to Washington's out of control spending."
AFP opposed the Bipartisan Budget Act of 2019 as it moved through Congress and urged President Trump to veto the measure in order to send Congress back to the drawing board. The deal raises spending levels by $320 billion and extends the debt limit until at least 2021, adding nearly $2 trillion to the national debt over the next 10 years. It puts the federal government on a path to see the "worst-case" scenario projected by the CBO.
The ad campaign will thank 23 other policy champions: Senators Bill Cassidy (R-LA), Ted Cruz (R-TX), Steve Daines (R-MT), Corey Gardner (R-CO), Ron Johnson (R-WI), Rand Paul (R-KY), Thom Thillis (R-NC), Joe Manchin (D-WV), and Michael Bennet (D-CO) and Representatives Ted Budd (R-NC), Darin LaHood (R-IL), Steve Chabot (R-OH), Warren Davidson (R-OH), Tom Emmer (R-MN), George Holding (R-NC), Jim Jordan (R-OH), Mark Meadows (R-NC), Greg Steube (R-FL), Scott Tipton (R-CO), Joe Cunningham (D-SC), Ron Kind (D-WI), Stephanie Murphy (D-FL), and Josh Harder (D-CA).
Background:
AFP Urges President Trump to Veto Budget Deal If It Reaches His Desk (8/1/19)
AFP: Budget Deal is a Direct Path to the CBO's Worse-Case Crisis (7/23/19)
AFP Report: Looming Debt and Spending Crisis Threatens Standard of Living for All Americans (7/19/19)