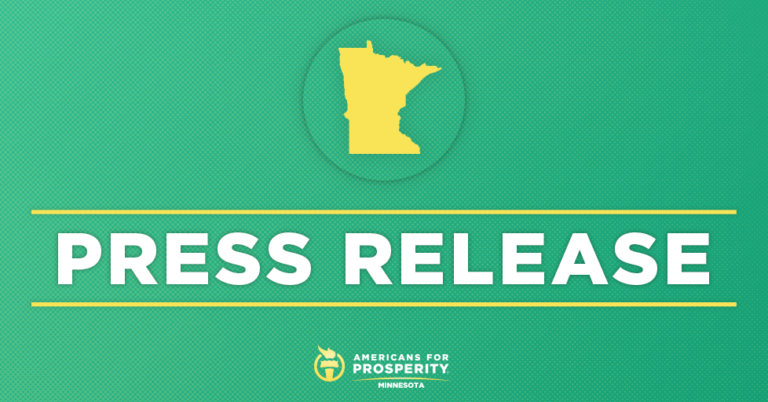 AFP Thanks Rep. Paulsen for Supporting Spending Cuts
ST. PAUL, Minn. – Americans for Prosperity-Minnesota (AFP-MN) today applauded Rep. Paulsen and the others in the Minnesota delegation who voted in support of President Trump's rescission package, the Spending Cuts to Expired and Unnecessary Programs Act (H.R. 3), that cancels $15 billion in unspent funds from previous years. Earlier this week, AFP-MN urged Representatives Tim Walz and Erik Paulsen to start working toward fiscal responsibility as part of the grassroots group's "Stop Over Spending" campaign.
"Representative Paulsen's support of these needed spending cuts is a good first step to address Washington's out of control spending. While Rep. Walz missed an opportunity to demonstrate his commitment to fiscal responsibility, we thank Rep. Paulsen for listening to his constituents and voting to rein in spending," said Jason Flohrs, AFP-MN State Director. "We urge Congress to build on this effort and pursue more aggressive spending reforms in this session."
Background:
Rep. Walz abstained from H.R. 3 and did not vote on the legislation.
AFP recently launched its "Stop Over Spending" campaign to call attention to the dramatic over spending that takes place in Washington. As part of the campaign, AFP thanked Congressmen Tom Emmer and Jason Lewis for recognizing that Congress has a spending problem and are counting on them to continue their commitment to fiscal responsibility by supporting the recession package. Both lawmakers supported the rescission package.
The "Stop Over Spending" campaign includes robust digital, direct-mail, print, and radio advertising in congressional districts across the country to thank or hold accountable members based on their vote on the $1.3 trillion omnibus spending package for fiscal year 2018. That omnibus pushed total federal spending over $4 trillion, or $33,000 per household.
While tax reform continues to benefit American workers and the overall economy, unchecked spending threatens to undermine that progress and drag the economy down.
Fiscal year 2019 spending legislation, which is currently being written, will be the last chance for members of Congress to prove before the midterm elections that they can be trusted stewards of taxpayer dollars. AFP views the fall 2019 spending debate as a critical test for lawmakers and will be engaging grassroots activists throughout the summer to hold both parties accountable for reckless spending and stress the importance of getting spending under control.
For further information or an interview, reach Jason Flohrs at JFlohrs@afphq.org
###