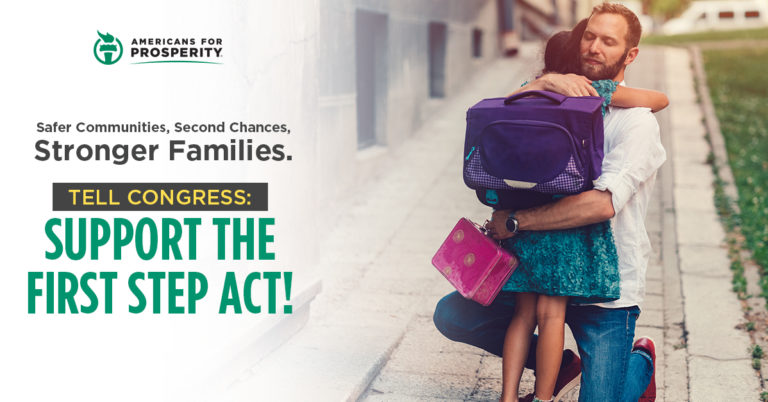 AFP Thanks Durbin for Supporting FIRST STEP Act
NAPERVILLE, Ill. – Americans for Prosperity-Illinois (AFP-IL) on Monday launched a paid media effort including direct mail and digital advertisements thanking Senator Dick Durbin (D-IL) for supporting the bipartisan FIRST STEP Act, a much-needed reform to the criminal justice system. The legislation would enhance public safety and create access to second chances for individuals transitioning to life after prison.
Recent research from Florida State University shows both male and female inmates crave more opportunities to work, learn, practice a faith, improve their health, and spend more time developing personal relationships than they currently do while incarcerated. The FIRST STEP Act would give them access to data-driven programs that help people become productive, law-abiding citizens when they reenter society.
AFP-IL State Director Andrew Nelms issued the following statement:
"Illinois should be a place where people who deserve second chances get them. Congress has an incredible opportunity with the FIRST STEP Act to reduce crime and break down barriers to success for folks, and we thank Sen. Durbin for working in a bipartisan fashion to advance the bill. Helping people transition to life after prison would prepare them to tackle future challenges, save taxpayer money, and lead to safer and stronger communities in Illinois. With 96 percent of all federal inmates set to one day be released, the FIRST STEP Act's rehabilitative approach is something everyone, regardless of party, can and should get behind."
Background:
The FIRST STEP Act, which the U.S. the House of Representatives already passed overwhelmingly in May, would create evidence-based risk and needs assessment tools that would be used to prepare incarcerated individuals to successfully reenter their communities as law-abiding individuals. The bill would ban the shackling of pregnant inmates, allow individuals to earn good time credits of up to 54 days per year, allow outside programs into federal prisons to enhance rehabilitation and reentry, and require prisoners, based on their level of risk, to be placed in facilities within 500 driving miles of their primary residence. The bill would also allow judges to issue more proportional sentences that hold people accountable for their mistakes without denying a much-needed second chance to those who aren't a public safety risk.