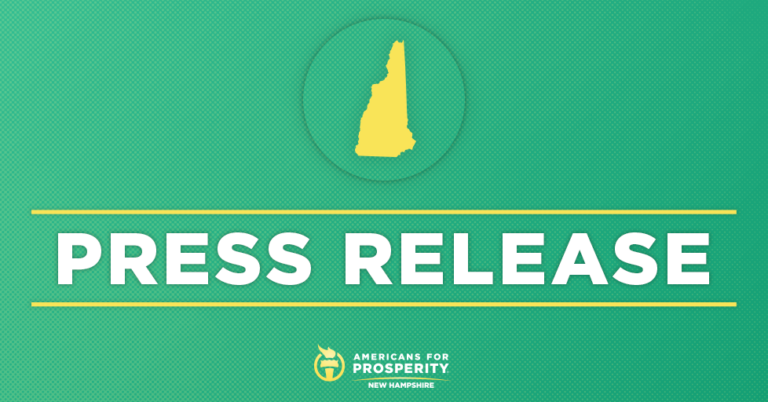 AFP-NH Announces Third Round of State Legislative Endorsements
CONCORD, NH – Americans for Prosperity-New Hampshire (AFP-NH) today announced its endorsement of six additional candidates for state Senate and state House of Representatives. These newly endorsed candidates bring AFP-NH's total engagement in state legislative races to 14. AFP-NH will continue to evaluate opportunities to support policy champions ahead of November.
Each candidate earned the support of AFP-NH for their dedication to championing principled policy solutions to the greatest challenges Granite Staters face.
AFP-NH State Director Greg Moore released the following statement:
"These candidates are the right choice to help put New Hampshire on a path of economic growth that benefits every person and solidifies our state as the best place to live and work in the nation. From their support for tax relief at a time when businesses and families are struggling, to affordable health care and energy costs, these individuals will be a great asset to the state legislature if elected this November. We look forward to mobilizing our activists in support of these principled candidates."
AFP-NH is proud to endorse the following candidates:
Hon. William O'Brien (Hillsborough 36):
During his time as Speaker, William O'Brien led the legislature in passing a state budget that reined in wasteful spending. O'Brien also worked hard to provide much-needed tax relief to his hardworking constituents and fought for worker freedom. In 2014, Speaker O'Brien was a recipient of AFP-NH's annual Defender of Freedom award.
Rep. Michael Harrington (Strafford 3):
Rep. Harrington has been a leader on ensuring Granite Staters have access to reliable, affordable energy. Rep. Harrington has also shown immense leadership in the legislature by leading the charge to remove barriers that stand in the way of Granite Staters providing for their families through their chosen profession. In doing so, Rep. Harrington championed economic opportunity for all Granite Staters.
Rep. Mark McLean (Hillsborough 44):
Rep. McLean has championed policies that provide better health care for more Granite State families.  Prioritizing reforms that ensure greater access to better quality care that we can afford, Rep. McLean has shown he knows that importance of health care for New Hampshire families. Rep. Mclean has also championed smart on crime, soft on taxpayers criminal justice reforms that protect public safety and ensure equal protection of the law.
Rep. Mark Warden (Hillsborough 15):
Rep. Mark Walden has been a consistent policy champion on regulation policy, ensuring unnecessary and burdensome red tape are removed to help increase access to health care and allow small businesses to thrive. Rep. Walden understands unleashing innovation and eliminating red tape will help get our economy booming again.
Hon. Keith Ammon (Hillsborough 40):
Serving on the Science, Technology and Energy Committee, Hon. Keith Ammon has led efforts to eliminate corporate welfare among energy providers. In doing so, Rep. Ammon helped increase access to reliable, affordable energy for Granite Staters.
Hon. Gary Daniels (Senate District 11):
When he served as the House Chairman of Labor, Hon. Gary Daniels was the driving force to pass worker freedom protections in New Hampshire. As Senate Finance Chairman, Daniels worked to provide tax relief for New Hampshire small businesses and keep wasteful spending in check.
Background:
AFP-NH Announces Second Wave of Legislative Endorsements, 8/19/20
AFP-NH Endorses Candidates in Key 2020 State Races, 7/30/20
This advertisement has been paid for by Americans for Prosperity, Greg Moore, Treasurer, 767 Islington St, Portsmouth, NH, and has not been authorized by a candidate.