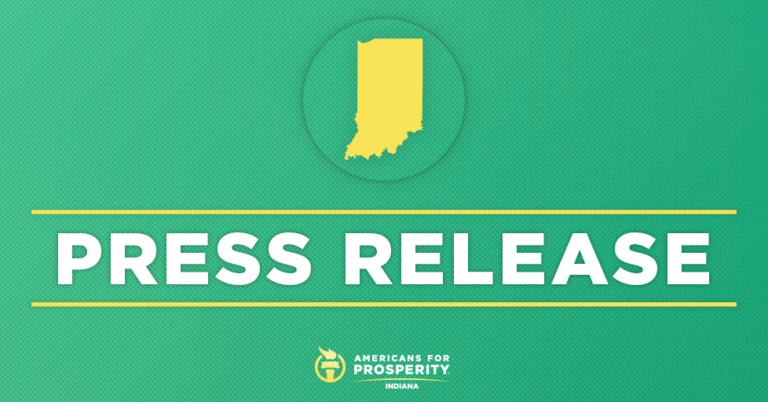 AFP-IN Vows to Continue Advocating for Sentencing Reform
INDIANAPOLIS, IN – Americans for Prosperity-Indiana (AFP-IN) today urged lawmakers to continue supporting sentencing reform following HB 1202 failing to pass the legislature. The bill would have allowed eligible individuals the possibility of early release after 11-15 years of incarceration, or 75% of their current sentence, depending on how many educational credits the individual earned while incarcerated. The parole board would then have to consider several relevant factors such as the individuals good conduct while incarcerated before potentially releasing them early.
AFP-IN ran a statewide digital ad campaign connecting Hoosiers with their lawmakers to urge support for the bill. A broad coalition of organizations supported the bill, including AFP, ALEC, the Indiana Department of Corrections, the Law Enforcement Action Partnership (LEAP), the Indiana Chamber of Commerce, the Indiana Catholic Church, and the Indiana State Bar Association Criminal Justice Section.
AFP-IN State Director Michael Chartier issued the following statement:
"Despite this setback, we will continue to advocate for justice, second chances and redemption. It's disappointing that our state will continue to spend millions of taxpayer dollars to incarcerate individuals who would be free if they committed the same offense today. Although scare tactics were prominent around this bill, our broad, bipartisan coalition is determined to build a criminal justice system that improves public safety, promotes redemption, and efficiently utilizes public dollars.

"We thank Rep. McNamara for her leadership to improve public safety and ensure the responsible use of taxpayer funds. Legislators should continue fighting to change the status quo of disproportionate and excessive sentencing laws that fail to deter crime and incarcerate too many Hoosiers far beyond what is just."
Background:
Currently, there are over 1,400 people in prison for sentences that the General Assembly over eight years ago decided were too harsh. In 2014, the legislature reduced the sentencing range judges can impose for a set of nonviolent offenses, including distribution of certain controlled substances and theft. This bill would have provided an opportunity for a sentence in line with what they would have received if they had committed the offense after the change in law in 2014.
AFP-IN State Director Michael Chartier wrote a recent op-ed in the Indianapolis Business Journal with retired Lt. Jay Hall on why sentencing reform would benefit Indiana.