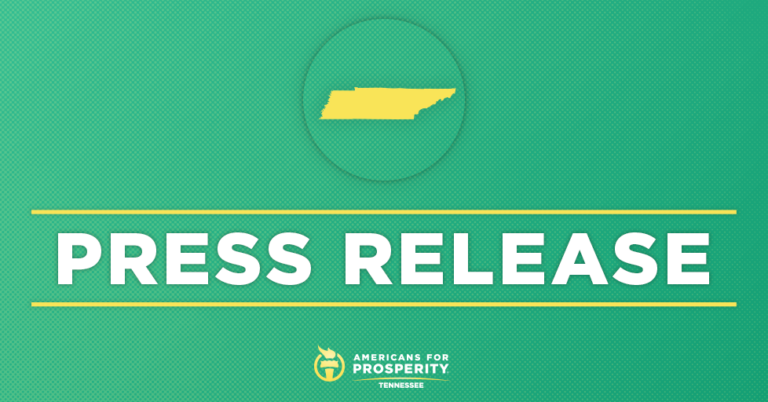 AFP Hosts Infrastructure Event Tonight with Congressman Mark Green, AFP President Tim Phillips
NASHVILLE, TN – Americans for Prosperity-Tennessee (AFP-TN) today is hosting an "End Washington Waste" event with U.S. Representative Mark Green and AFP President Tim Phillips today at 6:00 PM.
The event is part of AFP's full-scale national grassroots mobilization campaign that includes a significant seven-figure paid media effort including targeted direct mail and layered digital ads, planned rallies and townhalls, and phone banks and door-to-door canvassing.
AFP-TN State Director Tori Venable issued the following statement:
"Pork is good food but bad policy. Yet, this is what Tennesseans are getting with this so-called 'infrastructure' proposal that spends five percent of funds on roads and bridges and is paid for by some of the largest tax hikes in history.

"Rather than increasing taxes and spending billions of dollars on a partisan wish list that won't improve our infrastructure needs, we need to unleash private investment and overhaul our regulatory system that will make it easier to build infrastructure in a timely and efficient manner. We're excited to have Congressman Green join us as we talk with and hear from fellow Tennesseans about why this unsustainable spending spree from Washington needs to end."
WHAT: End Washington Waste Event
WHERE: Bold Patriot Brewing Company
410 39th Ave N, Nashville, TN 37209
WHEN: May 24th
6:00-8:00 p.m.
WHO: Congressman Mark Green
AFP President Tim Phillips
Tennesseans interested in attending can register here. Media is invited to attend and can RSVP with Tori Venable at TVenable@afphq.org or Kevin Brinegar at kbrinegar@afphq.org.
Background on AFP's Campaign:
The campaign also includes a robust paid media effort composed of several waves of targeted direct mail, layered digital advertising, and other tactics. AFP has also set up a unique web page at StopTheSpendingSpree.com that empowers individuals to contact their lawmakers.
AFP has already been ramping up in the field and with ads to drive engagement around the proposal. With the dedicated efforts of its activists nationwide, AFP has already sent more than 400,000 letters to lawmakers urging them to reject this infrastructure proposal.