Please select your state
so that we can show you the most relevant content.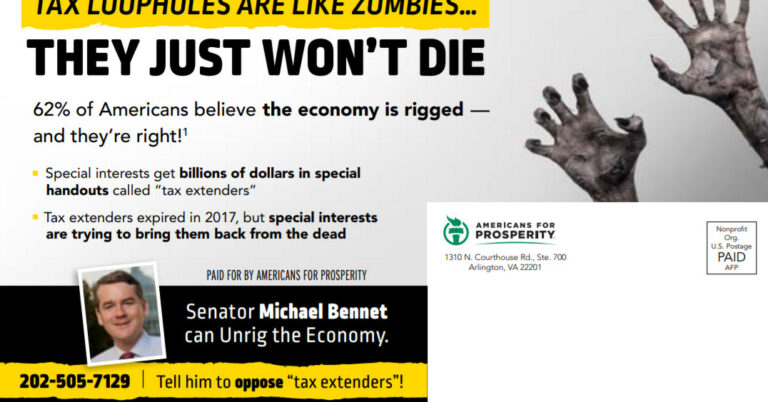 AFP: Congress Must "Unrig the Economy"
DENVER, Colo.—Americans for Prosperity-Colorado (AFP-CO) today highlighted its role as part of a national campaign through digital ads and mail urging Sen. Michael Bennet, Rep. Ed Perlmutter, and Rep. Scott Tipton to "unrig the economy" and level the playing field for all Coloradans.
According to a recent Washington Post/ABC News poll, 62% of Americans say the U.S. economic system mainly benefits those in power. The ads and mail are a part of a comprehensive, integrated nationwide campaign to urge lawmakers to create a strong economy by leveling the playing field for all. Called "Unrig the Economy," this multi-year, multi-million-dollar effort will harness the power of AFP's grassroots activists and partners to drive change at both the state and federal level.
The initial phase in Colorado will kick off with a robust direct mail and digital effort asking to Sen. Bennet to oppose the renewal of "tax extenders" as well as urging Rep. Perlmutter and Rep. Tipton to oppose reauthorization of the Export-Import (Ex-Im) Bank. Both policies perpetuate an economy that caters to special interests, leaving taxpayers to foot the bill.
Sen. Bennet mailer
Rep. Perlmutter mailer
Rep. Tipton mailer
AFP-CO State Director Jesse Mallory issued the following statement:
"Using subsidies, tax carve-outs, and protectionist policies, Congress has created an environment where the well-connected are better off. The Ex-Im Bank and tax extenders are typical, mundane D.C. policies that only the well-connected can take advantage of. The average individual may not know much about it, but they're paying for it. It must stop. We urge Senator Bennet and Rep. Perlmutter to unrig the economy and oppose any corporate welfare."
© 2023 AMERICANS FOR PROSPERITY. ALL RIGHTS RESERVED. | PRIVACY POLICY