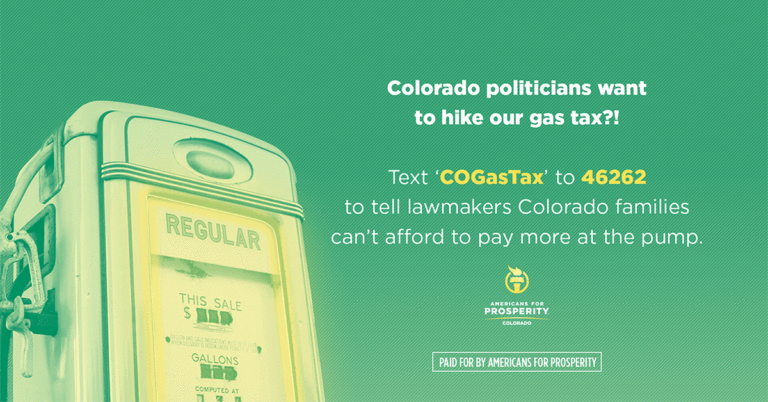 AFP-CO in New Campaign: Spend Smarter, Don't Raise Gas Tax
Grassroots group launches gas station, radio, digital ads and direct mail highlighting overspending and opposing gas tax increase
DENVER, Colo. – Americans for Prosperity-Colorado launched a new grassroots campaign urging Coloradans to contact their lawmakers and tell them to oppose increasing the gas tax and instead prioritize spending. After failing to spend tax dollars responsibly, state lawmakers have been discussing ways to increase revenue to fund infrastructure projects. AFP believes infrastructure can be strengthened without implementing a gas tax by prioritizing the use of existing revenue and reducing wasteful spending.
The first wave of the new campaign includes digital ads, radio ads, and fifteen-second video ads on gas station pump screens in almost two dozen gas stations throughout the Denver area that direct Coloradans to NoGasTaxIncrease.com. The effort also includes multiple flights of direct mail into key lawmakers' districts of both parties.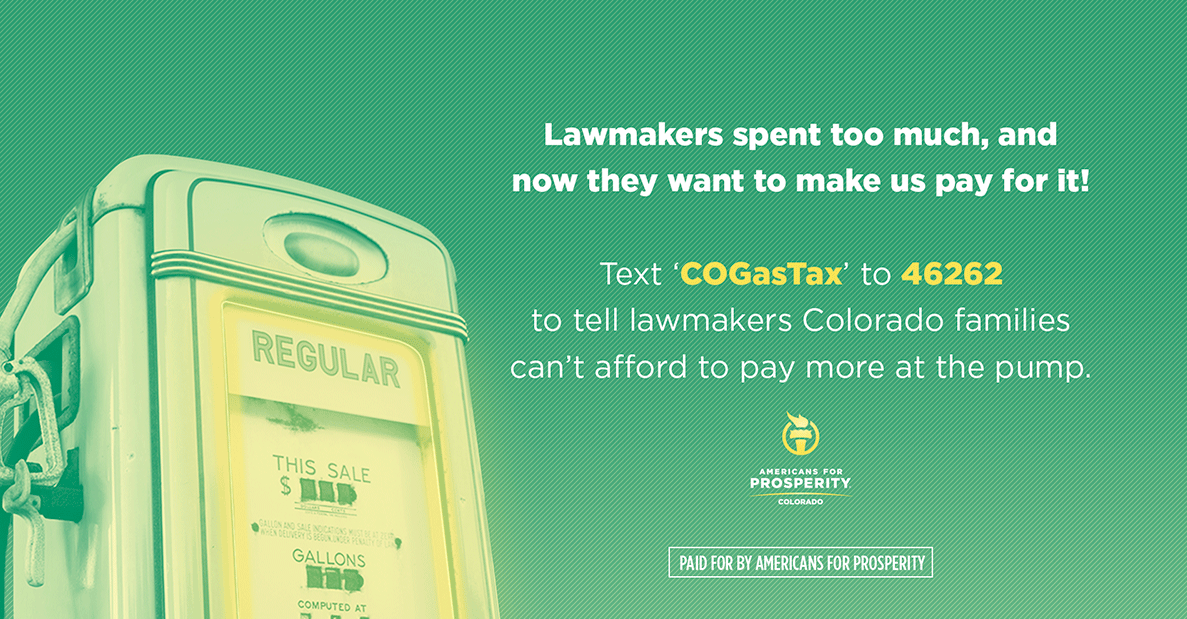 AFP-CO State Director Jesse Mallory issued the following statement:
"Higher gas prices make it more expensive to get to work or pay for everyday goods like groceries, robbing families of hard earned money they could better use to invest in things they care about most. Coloradans can't afford to pay more at the pump. We can build better infrastructure without adding burdens on taxpayers by prioritizing the use of existing revenue and eliminating spending on wasteful programs. Our lawmakers overspent and are trying to make us pay for it. If the Prop CC fight proved anything, it was that all Coloradans recognize the value of fiscal responsibility and demand it from our lawmakers."
For further information or an interview, reach Lorenz Isidro at LIsidro@afphq.org or (703) 887-7724. 
Through broad-based grassroots outreach, Americans for Prosperity (AFP) is driving long-term solutions to the country's biggest problems. AFP activists engage friends and neighbors on key issues and encourage them to take an active role in building a culture of mutual benefit, where people succeed by helping one another. AFP recruits and unites Coloradans behind a common goal of advancing policies that will help people improve their lives. For more information, visit www.americansforprosperity.org
###