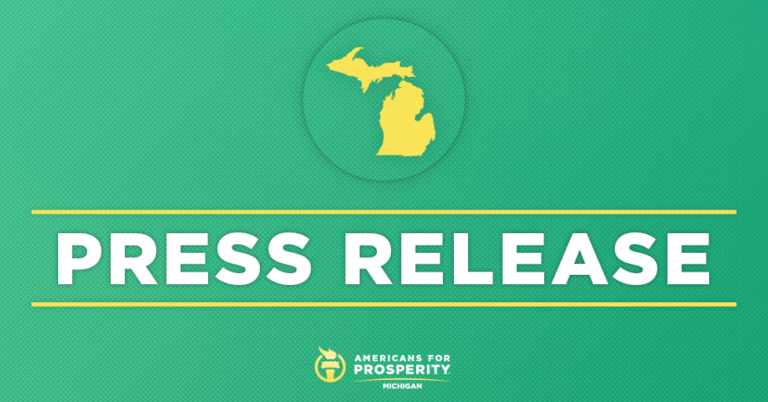 AFP: Clean Slate Offers A Fresh Start and New Foundation for those with Criminal Records
LANSING, Mich. – Americans for Prosperity-Michigan today thanked House and Senate leadership on the heels of a vote to pass a package of bills that would automate and expand the state's expungement process for people with low-level, non-violent offenses on their record. The grassroots group joined a broad coalition of organizations in support of the bill package and has educated and engaged citizens from across the state on the reforms, including thousands of calls.
"This legislation gives Michiganders with low-level criminal offenses a fresh start and a new foundation on which to rebuild their lives," said Annie Patnaude, state director for Americans for Prosperity-Michigan. "It allows people who have made mistakes to move on with their lives and improves their chance of success by breaking down barriers to jobs, housing and educational opportunities."
The bill package, consisting of House Bills 4980-4985, includes the key reform of automatically expunging low-level, non-violent offenses after seven years for a misdemeanor and 10 years for a felony if the individual has not committed any crime during that span of time. Criminal records would still be viewable by law enforcement and the court system but would be sealed for purposes for employment, housing and education. The package allow allows certain traffic offenses to be eligible for expungement for the first time.
"Our communities as a whole benefit when everyone has the opportunity to fulfill their potential and become positive contributors," said Patnaude. "This legislation allows for a true second chance for those who have paid their debt to society and resolved to lead a better life. We look forward to continuing to advance thoughtful criminal justice reforms in the months and years ahead."
AFP called the package strong, effective and thoughtful. The process included input from stakeholders from across the criminal justice system.
"We appreciate the strong leadership of Senate Majority Leader Mike Shirkey, House Speaker Lee Chatfield and House and Senate Judiciary Committee Chairs Graham Filler and Peter Lucido," Patnaude said. "We will continue to educate our grassroots communities on important criminal justice reforms that improve public safety, give people second chances, and help ensure all Michiganders have the opportunity to fulfill their potential."