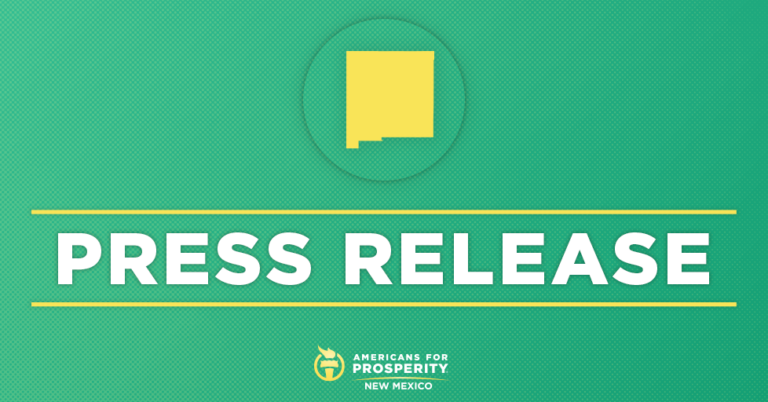 AFP and LIBRE Launch Accountability Campaign for Lawmakers' Opposition to Pension Reform
SANTA FE, NM – Americans for Prosperity-New Mexico (AFP-NM) and the LIBRE Initiative-NM today announced they are launching a digital accountability campaign that highlights lawmakers' votes on SB 72, landmark pension reform that is a first step toward stabilizing the Public Employees Retirement Association (PERA) pension fund.
The digital campaign also includes ads thanking lawmakers who supported pension reform. Both the accountability and thank you ads direct New Mexicans to a digital tool that allows them to contact their legislators.
"The legislature deserves credit for passing pension reform, helping prevent our pension system from going in a death spiral. We're now turning our attention to helping New Mexicans make their voice heard and hold lawmakers accountable who refused to safeguard our state's economic and fiscal future," said Burly Cain, AFP-NM State Director. "We thank the lawmakers who put principles over politics and supported common-sense pension reform, and we urge the governor to sign this bill without delay."
Ruben Guajardo, The LIBRE Initiative-NM Coalitions Director, released the following statement:
"For too long, our pension crisis has put at risk New Mexico's economic future. We applaud the legislature for supporting meaningful pension reform that helps protects our economy, prioritizes spending, and lessens the financial burden on taxpayers. We urge Governor Grisham to sign this bill and put New Mexico's retirement fund on a path towards stability."
 Background:
Last week, AFP and The LIBRE Initiative ran a digital campaign connecting New Mexicans with their state representative to urge them to support pension reform. Throughout the groups' digital and grassroots efforts, nearly 200,000 people were contacted.
New Mexico's retirement system now has unfunded liabilities nearing $7 billion (almost the total proposed 2020 budget of our state), or $2,861 for every single person in New Mexico.
SB 72 will set the pension fund on a course to nearly pay off the $7 billion unfunded liability over the next 25 years.
Click here to read AFP-NM State Director Burly Cain's op-ed in the Santa Fe New Mexican on the state's pension crisis.