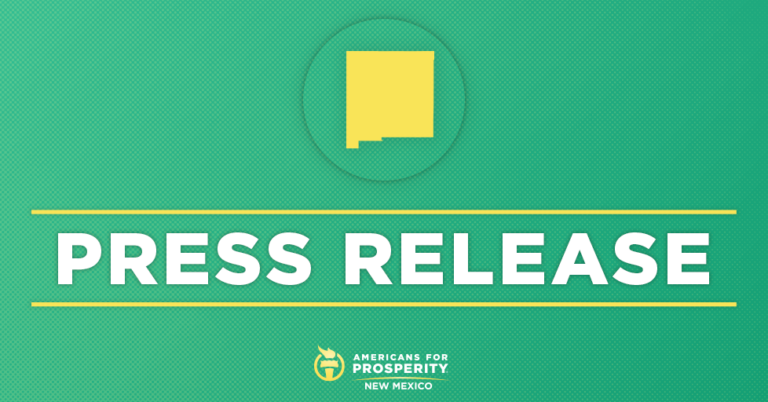 AFP and the LIBRE Initiative Launch Statewide Digital Campaign on Pension Reform
Grassroots groups campaign educates citizens on pension crisis, urges state representatives to support SB 72
SANTA FE, NM – Americans for Prosperity-New Mexico (AFP-NM) and the LIBRE Initiative-NM announced a joint, statewide digital campaign that urges New Mexicans to contact their state representatives in support of SB 72, landmark pension reform that would help stabilize the Public Employees Retirement Association (PERA) pension fund.
The grassroots groups are educating New Mexicans on the current pension crisis and directing them to a digital tool that enables them to contact their legislator.
Americans for Prosperity also released a poll that showed strong bipartisan support, with 65% voicing their approval for pension reform when New Mexicans are presented with facts about the crisis.
Click here to view the AFP digital ad.
Click here to view the LIBRE digital ad.
Americans for Prosperity-New Mexico State Director Burly Cain issued the following statement:
"The status quo of our state's pension system is unsustainable. We're getting out and educating people across the state about this issue, letting them know this bill is a solution that helps shore up our pension crisis. We thank the senate for seizing the opportunity to help prevent our pension system from destabilizing our state's economy. Now the House needs to act and get our pension system back on a fiscally sound track, preventing taxpayers from having to pick up the tab for out of control pension costs."
The LIBRE Initiative-New Mexico Community Engagement Director Ruben Guajardo released the following statement:
"For far too long, our state's pension system has been a liability for New Mexicans. That's why we are launching this campaign to urge House members to continue the critical work on pension reform that just passed the Senate. This reform is essential to the future of our state's economy. We applaud the Senate for their work and look to the House to take swift, bipartisan action on approving this legislation."
Background:
New Mexico's retirement system now has unfunded liabilities nearing $7 billion (almost the total proposed 2020 budget of our state), or $2,861 for every single person in New Mexico.
SB 72 will set the pension fund on a course to achieve 97% funding over the next 25 years.
Click here to read AFP-NM State Director Burly Cain's op-ed in the Santa Fe New Mexican on the state's pension crisis.