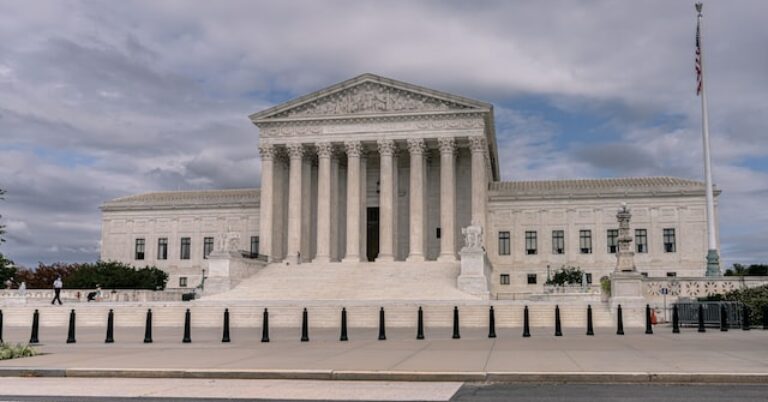 Your free speech is on the docket during this Supreme Court term
October is the best month of the year. It's a fact. The weather is the best, the leaves are changing, football is in full swing, and the U.S. Supreme Court returns to session.
The Court has only filled about half of its case load for the 2022-2023 term. And it already looks like a significant year for free speech at the Supreme Court.
Here are the cases I'm watching:
303 Creative v. Elenis 
Can Colorado compel a web designer to design custom websites — celebrating same-sex marriage — contrary to the artist's sincerely held religious beliefs?
Background: Colorado and lower courts agreed that they were compelling 303 Creative's owner, Lorie Smith, to speak. Colorado also agreed that Smith doesn't discriminate on the basis of the customer's classifications, including sexual orientation, but decides on her clients based on the requested content.
In other words, she serves customers regardless of their orientation for various projects. But she declines to create tailored website content for views that go against her own. Nevertheless, the 10th Circuit held that the compelled speech here was justified by Colorado's interest in combatting discrimination.
Free Speech Implications: As my AFP colleague Cindy Crawford wrote last year,
"Displacing long-held understanding of First Amendment protection of free speech to compel speech on demand whenever government declares that certain messages must be delivered would place all expressive professionals at risk."
And Smith partnered with Jack Phillips (you might recognize his name from Masterpiece Cakeshop v. Colorado Civil Rights Commission or from recently being sued again) to write a USA TODAY op-ed, asserting that "no one should be forced to speak messages that violate their core convictions."
Gonzalez v. Google
Although not principally a First Amendment case, this case could affect free speech online, as it's related to the legal protection afforded to social media platforms and search engines.
And with the Court's decision to hear a similar case, Twitter v. Taamneh, the Court's decisions in these cases could significantly affect the platforms' liability for their users' speech and thus how they moderate user content.
Background: After Nohemi Gonzalez was killed in a 2015 ISIS terrorist attack, her family sued Google, claiming that YouTube (which is owned by Google) hosted videos in which ISIS radicalized viewers and incited violence. Google pointed to Section 230 of the Communications Decency Act in its defense, a law that shields platforms from liability for their users' speech online.
Free Speech Implications: With other major cases working their way to the Court dealing with state laws regulating social media platforms, these cases and 303 Creative (applying of a state law to production of website content) are likely to have broader implications for the future of free speech online. See the seven principles for reforming Section 230 that don't include policing online speech.
Novak v. City of Parma 
Finally, the Court is being asked to take up an intriguing case about parody that also gets at a major problem for anyone seeking to hold government accountable for violating First Amendment rights – qualified immunity.
Yes, the same legal doctrine that is most often associated with police officers' use of force applies to all kinds of government officials – even university officials' decisions to censor student speech. As I've written before, qualified immunity must end. But the underlying First Amendment issues are also interesting.
Background: After Anthony Novak created a parody Facebook page to make fun of his local police department, the police department charged him with a felony and searched his apartment. After Novak was found not guilty by a jury, he tried to file a civil rights lawsuit against the officers, but the 6th Circuit granted the police officers qualified immunity.
Free Speech Implications: "If the First Amendment means anything, it surely means that an individual can mock the government without fear of being arrested," as the Institute for Justice has noted.
If we must continue the judicially invented doctrine of qualified immunity, it should not apply where government officials were under no threat and had to make no split-second judgment and nevertheless undermined First Amendment rights.
One fun note about Novak v. City of Parma: The Onion, a satirical website, filed a friend-of-the-court brief, that's well worth a read: "Americans can be put in jail for poking fun at the government? This was a surprise to America's Finest News Source and an uncomfortable learning experience for its editorial team."
The brief also called the federal judiciary "total Latin dorks." I mean, veritas.
Civil liberties are the solution to uncivil times. Join the defense of Free Speech: