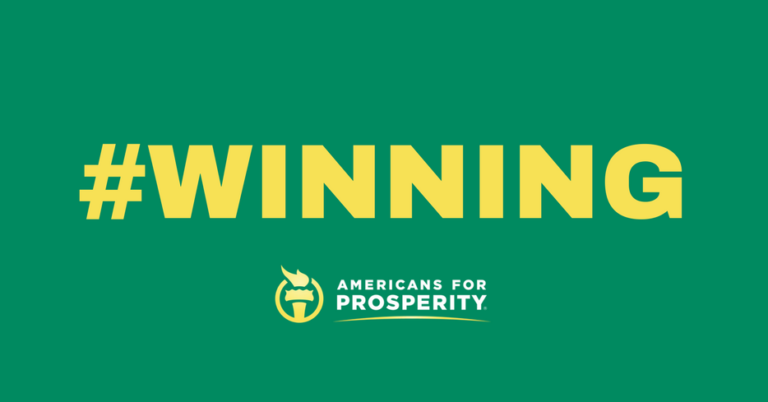 Win of the Week
Your weekly round-up of the major wins making headlines thanks to AFP's grassroots activists across the country (January 14-20)
The Big W: Local Right to Work ordinance passed in New Mexico
What it is: Americans for Prosperity-New Mexico (AFP-NM) and its grassroots activists have consistently supported Right to Work laws that expand workplace freedom by freeing employees from being forced to join a union and pay part of their hard-earned paycheck to the organization. On Friday, in Sandoval County, their efforts paid off in a big way when the County Commission passed a local Right to Work ordinance.  
Why it's important: Across the country, states and local governments are embracing Right to Work laws that make union dues voluntary. AFP's grassroots activists have played a crucial role in advancing worker freedom in states like Kentucky, Wisconsin, Mississippi, West Virginia and more! The passage of the Sandoval Country Right to Work ordinance is a big win for the worker freedom movement. 
The grassroots impact: In September, AFP-NM launched a grassroots campaign to educate New Mexicans on the benefits of Right to Work. The "New Jobs New Mexico" campaign featured AFP's hallmark grassroots organizing, a robust digital effort, and a long-term commitment to winning in the fight for worker freedom. 
Prosperity produced: More freedom, more money in the pockets of hard-working Americans and more jobs are just some of the proven benefits of Right to Work. As AFP-NM State Director Burly Cain put it: "The commission's vote allows hard-working New Mexicans to keep more of their paycheck and better compete in the workforce. Employees should be able to choose whether to join a union – that choice should not be made for them by the government." 
But the #winning doesn't stop there…
Click here to sign our petition showing your support for worker freedom. Then check out these other great grassroots wins advancing economic freedom and prosperity in communities like yours!
AFP- New Jersey – Gov. Christie signs occupational licensing reform bill into law