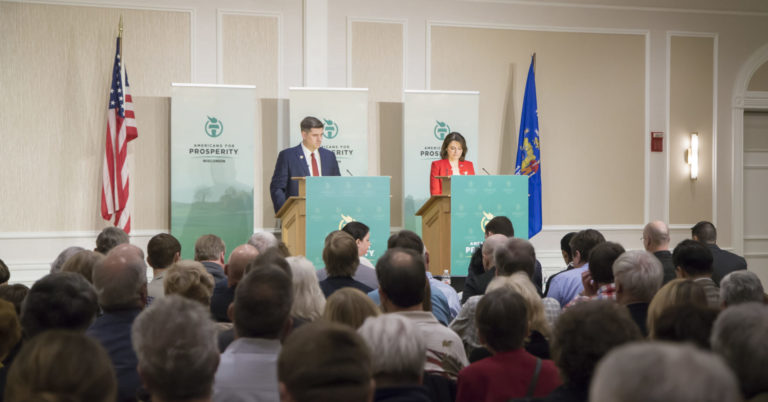 WATCH: Candidates Tackle Tough Issues in First Republican U.S. Senate Primary Debate Hosted By AFP-Wisconsin
Republican U.S. Senate candidates Kevin Nicholson and Leah Vukmir square off on the AFP-Wisconsin debate stage. Watch the full debate video here.
Last week, Americans for Prosperity-Wisconsin hosted the first Wisconsin Republican U.S. Senate primary debate between candidates Leah Vukmir, a state senator, and businessman Kevin Nicholson.
Both candidates engaged in a spirited debate and gave Wisconsinites a chance to hear their ideas for a freer, more transparent government.
Throughout the debate, the candidates were asked a series of questions on topics including health care, the economy, veterans' issues and immigration.
Candidates on the Issues: Right-to-Try
When prompted about his stance on Right-to-Try legislation, Nicholson responded,
Those that have been diagnosed with a terminal illness deserve the opportunity to go out and take a try to actually save their life and spend more time on earth with their family, friends and loved ones.

[…] the system that has been put in place to protect the patents of pharmaceuticals and healthcare technology companies — it's convoluted. It's been built by lobbyists, insiders, folks that put up obstacles to new market entry.

Right-to-Try helps to break down those barriers and give those that have terminal illnesses an opportunity.
When asked for her thoughts on Right-to-Try, Vukmir stated,
Not only do I support the legislation, but I passed it through my Senate Health Committee in Wisconsin and I voted for it and I supported it…

As a nurse, I have sat at the beside of people at the end of life and I understand what families go through. I've sat there and held their hands. We have to give hope to individuals at that stage of their life.

[Right-to-Try] is a chance for us to give hope and it's a chance for us to learn what works and what doesn't work.
Candidates on the Issues: Tariffs and Free Trade
When asked whether she supports the recent tariffs on washing machines, machine electronics and steel, Vukmir said,
I'm willing to watch as Donald Trump, the great negotiator, tries to negotiate fair deals for Wisconsin and for our country and I'm willing to give him the benefit [of the doubt] but I will be watching very closely to see how it affects us because it clearly, it could affect industry in our state.

When questioned about Trump administration's recent tariffs, Nicholson responded,

I believe in trade – I believe it is important to lift people up in our country and across the world. But at the end of the day those deals were not good and they certainly were not good for the state of Wisconsin. If you want proof, look at Milwaukee's manufacturing industries.
Candidates on the Issues: Immigration
When asked about immigration reform and whether she supports a permanent DACA fix for Dreamers, Vukmir stated,
I am the daughter of Greek immigrants…They were proud to become Americans. I helped them study for their naturalization and citizenship tests and I helped them learn English.

If we're going to talk about DACA we must first build the wall, seal our borders, and then we can talk about how we're going to bring those individuals into our system.
In his response to the immigration prompt, Nicholson stated,
Once you've stopped illegal immigration and put in place a sustainable and honestly sustainable, economically justifiable immigration plan that brings people into this country that want to become citizens and buy into its rights but also its responsibilities. People that want to become citizens – that is what we want.

Any kind of DACA fix would be part of the post-introduction of the barrier to illegal immigration and part of that sustainable path going forward.
Closing Arguments
Throughout the debate, both candidates stressed their commitment to conservative principles, fiscal restraint and limited government.
In her closing remarks, Vukmir referenced herself as a "proven consistent conservative" and highlighted her experience as a nurse and Wisconsin legislator.
Nicholson reiterated his service in the Marines and painted himself as "a different kind of candidate," referring to himself as a political "outsider."
This debate was an important opportunity for Wisconsinites to hear directly from candidates about major issues ahead of the August 14 primary election.
Watch the full debate here.