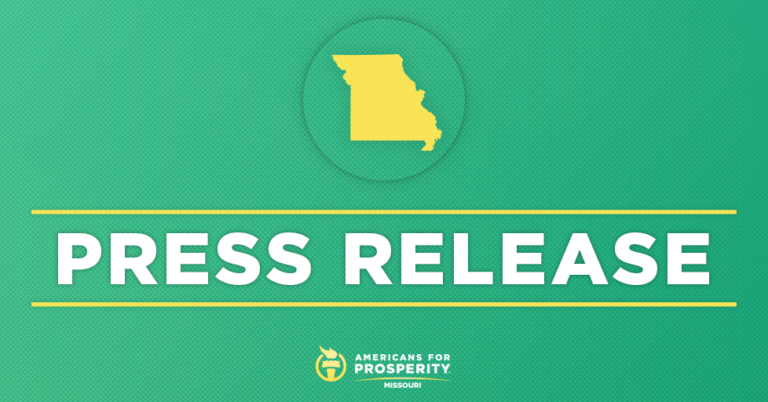 Treasurer Scott Fitzpatrick Discusses Impact Medicaid Expansion Would Have on State's Budget, Fiscal Future
JEFFERSON CITY, MO – Americans for Prosperity-Missouri (AFP-MO) on Thursday held a town hall with Missouri Treasurer Scott Fitzpatrick on Medicaid expansion.
AFP-MO and Fitzpatrick discussed why Missourians should reject Medicaid expansion, a broken program that under-delivers on care and over-delivers on cost.
Click here to view the town hall.
AFP-MO State Director Jeremy Cady issued the following statement:
"With our state struggling financially due to COVID, expanding a program that already takes up 40% of our budget will force us to cut essential services or raise taxes on Missouri families. Not only is Amendment 2 wrong for fiscal reasons, Medicaid makes getting care even harder for Medicaid's intended recipients, our most vulnerable populations. Instead of expanding a broken program that will wreck our state's budget and raise taxes when Missouri families need money in their pockets, we should get government barriers out of the way that are preventing more health care professionals from treating people."
Treasurer Scott Fitzpatrick refuted the notion that Missourians are losing tax dollars by not expanding Medicaid:
"Voting no on this [Amendment 2] Medicaid expansion does not mean New York, California, Illinois and other Medicaid expansion states are going to get more of our money. Voting yes does not mean they get less of our money. It makes no difference to those states what we do with Medicaid expansion." (8:40)
Treasurer Scott Fitzpatrick said this about the current impact Medicaid's growth has on the budget:
"At least half of the increase in the state budget each year is attributable to Medicaid, as it is. In the last seven years, it's [Medicaid} doubled and will probably double in the next seven years…We're not a state that can borrow money to balance our budget, so that money is going to come from somewhere." (11:30)
Treasurer Scott Fitzpatrick said this about how expanding Medicaid would have on the budget following the strain COVID has caused:  
"It is going to be challenging if you throw another 300,000 people on a system at a time when the state is dealing with what I would call a budget crisis that we haven't seen in a long time, it's going to be even that much more challenging." (18:00)
Background:
Medicaid was intended to focus resources on the most vulnerable Americans like the elderly and the disabled, but its expansion to able-bodied, childless, working-age adults would create an unsustainable burden on taxpayers and crowd out resources for those truly needy populations.
Medicaid is simply not cost effective. Researchers from MIT, Harvard, and Dartmouth found that Medicaid recipients only value about 20 to 40 cents of benefit for every dollar spent on Medicaid. Insurance companies, not low-income citizens, are the biggest winners of Medicaid expansion. Kaiser Health News reported that Medicaid insurer profits more than tripled in 34 states and the District of Columbia after Obamacare's Medicaid expansion.
In every state that has expanded Medicaid made possible by Obamacare, enrollment has far outpaced projections and per patient costs have been nearly twice the original estimate.
PAID FOR BY AMERICANS FOR PROSPERITY, EMILY SEIDEL, CHIEF EXECUTIVE OFFICER, PO BOX 94 JEFFERSON CITY, MO 65102