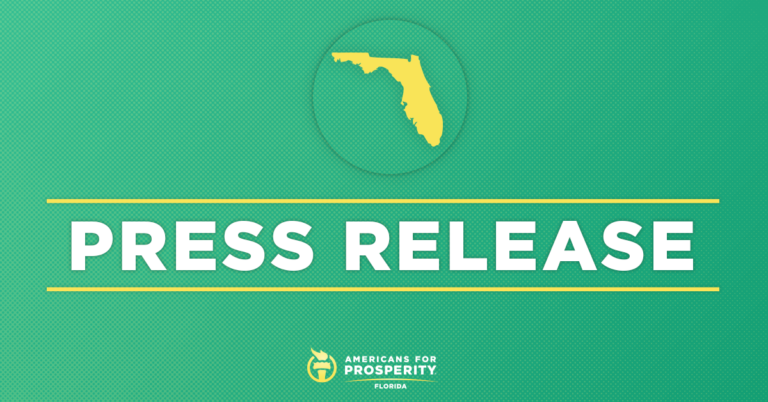 Top AFP-FL Official Departs, Local Chapter Built to Last
Chris Hudson to lead state legislative affairs across the country

Tallahassee, FL – Americans for Prosperity announced that Chris Hudson, the AFP's veteran Florida State Director is assuming a new role as Vice President of State Government Affairs. In his new role, Chris will help build policy coalitions and drive policy priorities across the 36 states where AFP has had a permanent presence.
Chris has served as AFP's top Florida operative since 2014. He helped boost the profile AFP's signature grassroots operation. Chris oversaw the building of a permanent grassroots infrastructure that stretches from the Panhandle to Keys resulting in the mobilization of thousands of Floridians taking action to defeat the harmful expansion of Medicaid under Obamacare, the expansion of common sense health care reforms, the expansion of major education reforms including the successful advocacy of the new Schools of Hope scholarships, and helped expose rampant corporate welfare which led to significant cuts and reforms to so-called incentive programs.
"I've learned a lot over my four years with the Florida Chapter. I'm looking forward to sharing those lessons with our teams across the country to help drive significant policy victories that promote the principles of a free and open society by reducing barriers, so all Americans can achieve their highest potential," said Hudson. "I credit my teams on the ground and in the capitol for cementing AFP in their communities as a trusted resource to lawmakers and community groups. This team is ready to take AFP to even greater heights, and I look forward to seeing first hand our new and current leaders step up to lead the charge."
Skylar Zander, AFP's Deputy Director and chief legislative architect will lead AFP-FL as interim state director.
"We look forward to continuing to learn from and work with Chris. His leadership, and veteran insight in the policymaking process has been invaluable," said Zander. "His dedication to the mission has driven our team to face down insurmountable obstacles at times and, win or lose, thanks to Chris' steadfast leadership we've continued to find ways to improve. Chris has led us well, expanding our engagement in more policy priorities and developing a remarkably strong grassroots team."
About Chris:
Chris Hudson is a recognized political professional with a multitude of accomplishments and extensive experience. His comprehensive background includes everything from campaign management to grassroots organizing and nonprofit work, in addition to policy analysis and preparation of legislation while working at both state and federal legislative offices.
Chris spent the three years prior to AFP directing government relations for Strategic Advocacy, a public affairs firm, as well as the Foundation for Government Accountability, a non-partisan free market think tank. In 2010, Chris served as the Central Florida Field Director for the House majority's campaign effort, directing more than 20 legislative campaigns along the I-4 Corridor.
Chris was a legislative assistant for Florida State Senator Lee Constantine, and prepared policy analysis and draft legislation for the senator's office on many important issues, including public safety, education, energy, and transportation.
Chris attended Salve Regina University in Newport, Rhode Island, where he earned a Bachelor of Arts degree in Political Science and a Master of Arts degree in International Relations. He lives in Naples, Florida with his wife and daughter, and is an avid paintball player.