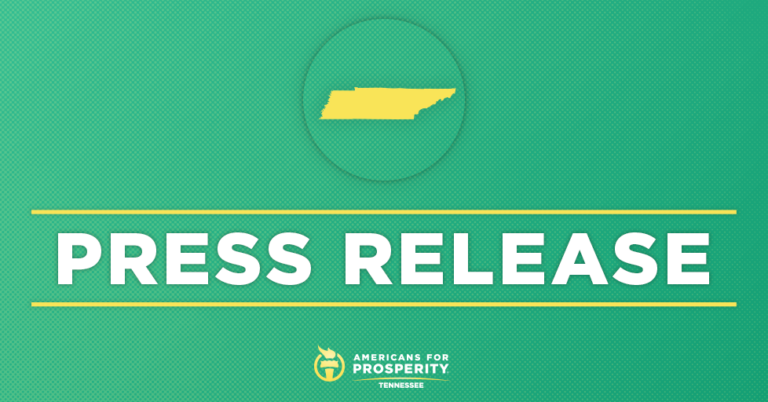 Tennessee has Opportunity to Lead on Occupational Licensing Reform
Trump administration releases report on how states can overhaul onerous occupational licenses
NASHVILLE, TN – Americans for Prosperity-Tennessee (AFP-TN) today commended the Trump administration for issuing a report on how states can reform their occupational licensing laws to ensure they are not used as barriers intended to keep people from practicing their desired occupation.
Although Tennessee has made progress in reducing the scope and burden of its occupational license laws the past few years, over 110 occupational licenses remain codified in state law.
Americans for Prosperity State Director Tori Venable issued the following statement:
"Tennesseans shouldn't have to get a government permission slip to practice their occupation of choice. Occupational licenses are increasingly used to collect fees and protect industries from competition, while often producing the exact opposite result of protecting consumers.
"Occupational licensing reform is crucial for our state to continue our work in criminal justice reform. By breaking down barriers for those with a criminal record, we will help them find their work of choice and make an easier reentry back into their communities – decreasing the chance they will recidivate. Our state should continue our common-sense work to eliminate the worst of occupational licenses and make it easier for people to work without the government's permission. We thank the Trump administration for providing a pathway for states to follow that will eliminate barriers to entry and give Tennesseans the opportunity to earn a fulfilling living."
Background:
The Trump Administration called on state governments to act on occupational licensure reform and issued six principles it believes are critical for good reform. The six principles are:
States and territories should eliminate unnecessary occupational licensing regulations.
States and territories should ensure that all occupational licensing regulations, including those currently in force, are the least restrictive necessary to protect consumers from significant and substantiated harm, ensure worker safety, and promote competition.
States and territories should ensure that occupational licensure boards consider the negative effects of any proposed regulation on consumers and job seekers.
States and territories should recognize the occupational licenses of other States and territories for those individuals who hold a license in good standing and who have not been subject to any complaint or discipline related to their license.
States and territories should eliminate requirements that needlessly prevent individuals with a criminal record from earning a living in a field unrelated to their criminal conviction.
States and territories should take immediate action to ensure that military spouses who accompany their spouses on permanent change-of-station orders are not adversely affected by occupational licensing regulations.
In the 1950s, about one-in-twenty Americans required a license to work. Today that number is one-in-four.
Many of these licenses do nothing to protect consumers like they are supposedly intended. Rather, they serve entrenched interests by insulating them from competition. Although proponents of occupational licenses proclaim they serve to improve safety and quality for consumers, research and historical observations suggest otherwise, regularly showing that licensing laws have negligible and even negative effects on health and safety.
An Obama White House report also found that: "Licensing laws also lead to higher prices for goods and services… Moreover, in a number of other studies, licensing did not increase the quality of goods and services, suggesting that consumers are sometimes paying higher prices without getting improved goods or services."
Research also shows that in more onerously licensed states, entrepreneurship rates are lower among low-income residents, recidivism rates are higher for ex-offenders, and other unintended consequences such as increased crime rates occur due to decreased employment opportunities.