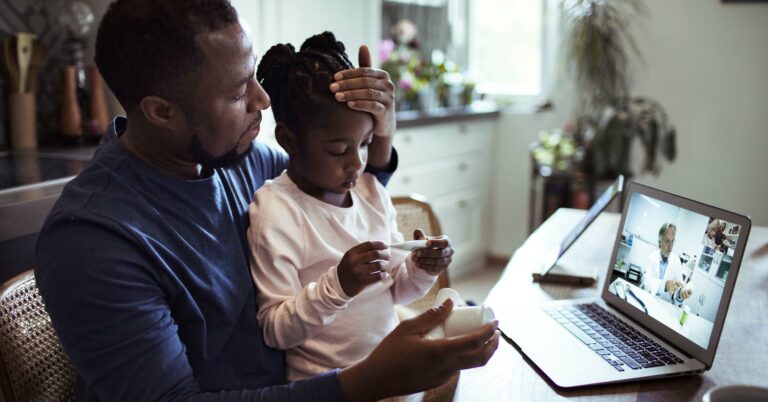 Contrary to conventional wisdom, telehealth found to save money, time, and health
by AFP
When COVID-19 hit the United States, local officials closed most doctors' and dentists' offices to all but emergency visits. With tens of millions of Americans suddenly cut off from clinicians, policymakers rushed to relax regulations related to telehealth.
These changes allowed quarantined Americans to get in touch with their providers virtually, via video or telephone, for everything from routine primary care visits to consults with cardiologists.
The rapid regulatory changes left some skeptical. Payors — insurance companies — in particular were worried that increased access would result in increased fraud and overuse, and would send already elevated health care costs even higher.
They were wrong.
A new report from Americans for Prosperity and the Progressive Policy Institute that analyzed data from FAIR Health found that the more patients use telehealth, the more affordable it becomes.
"Panic over emerging technology is nothing new, but this report shows that the main concerns surrounding virtual care are not supported by evidence," said Charlie Katebi, health policy analyst at Americans for Prosperity and co-author of the report along with Arielle Kane, director of public policy at the Progress Policy Institute. "Telehealth proved to be a godsend during the pandemic – not just because it kept Americans connected to their doctors, but because it saved them money, too."
COVID pandemic entices policymakers to break down telehealth barriers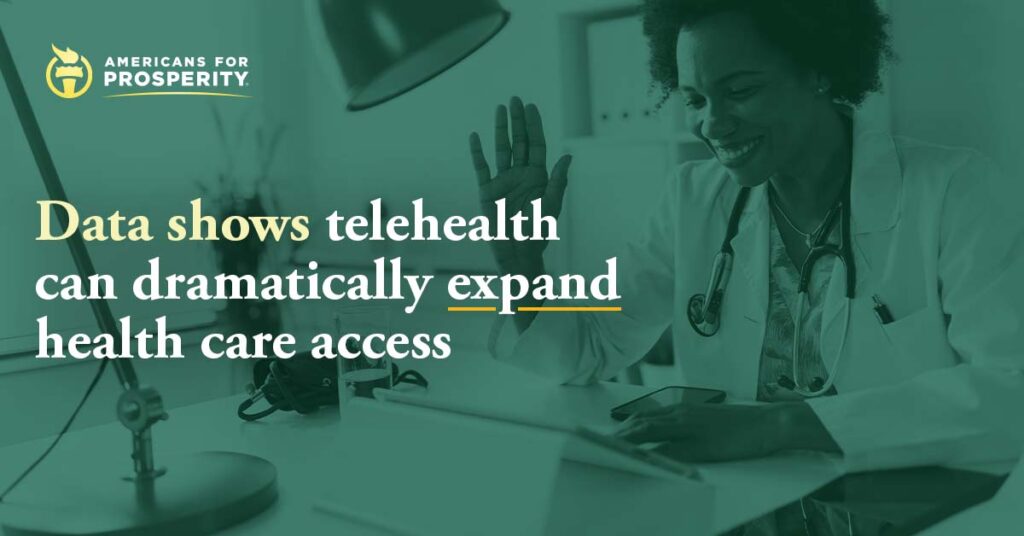 Telehealth programs have been in existence for more than a generation, but several factors, including patient skepticism, kept the tools from flourishing.
Government policymakers also restricted access to virtual health care services.
In 2001, Congress passed legislation allowing Medicare to pay for telehealth. The Congressional Budget Office warned these services could increase the country's health care bills, however, so lawmakers limited the availability of virtual care to seniors in rural areas.
With COVID-19 bearing down on constituents 20 years later, lawmakers eased restrictions. The U.S. Department of Health and Human Services (HHS) also expanded the list of telehealth-eligible practitioners to include physical therapists, speech language pathologists, and others.
State regulators and lawmakers also relaxed telehealth rules.
A lifeline during pandemic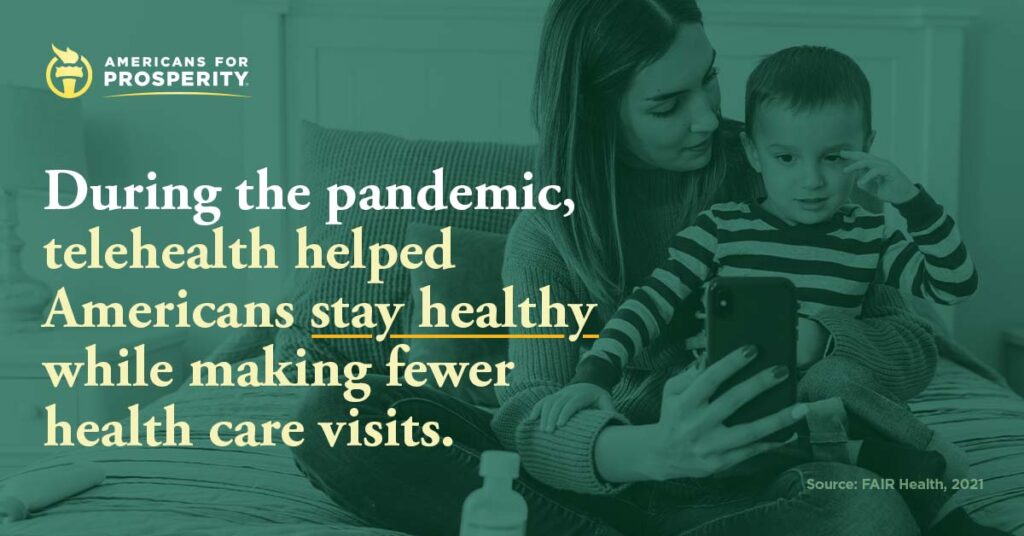 Once-skeptical Americans now stuck at home eagerly embraced virtual medicine.
During the first half of 2019, only 134,000 Medicare enrollees on average received virtual health care each week. That number rose more than 7,400 percent during the first few months of the pandemic.
Between January and June 2020, for example, 10.1 million Medicare beneficiaries received telehealth services.
Patients outside of Medicare also connected with clinicians virtually.
Prior to the pandemic, health care providers delivered only 1.5 percent of health services through telehealth. After COVID reforms took effect, about a quarter of all health visits paid for by private health insurers were telehealth visits.
Telehealth gets more affordable the more it is used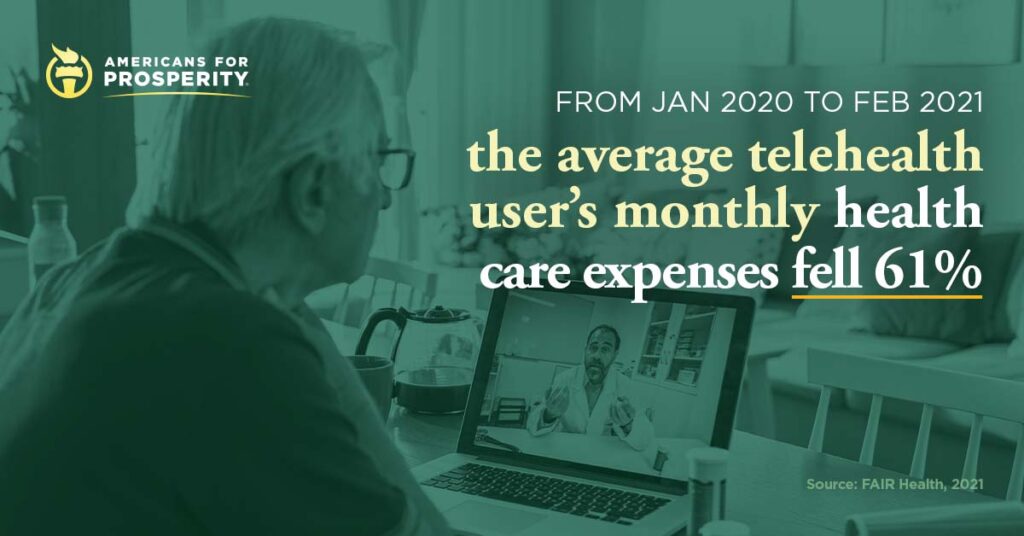 The move toward telehealth has saved patients time, money, and their health.
The FAIR Health data that AFP and PPI analyzed found that patients who use telehealth spend dramatically less on health care services over time. Between January 2020 and February 2021, the average telehealth patient's health care expenses fell 61 percent, from $1,099 to $425 per month.
Telehealth patients' costs fell faster than in-person patients: The average in-person patient spent $910 in January 2020 and $578 in February 2021.
Telehealth also saves money by allowing clinicians to effectively help patients outside the office. Virtual care patients had lower overall health care utilization compared with people who used only in-person care, except during the early months of the pandemic. Individuals who used telehealth also made significantly fewer emergency room visits.
As that last point reveals, doctors are not using telehealth to address only runny noses and sore throats.
Studies have found the majority of telehealth patients used services for chronic conditions such as diabetes, and that physical therapy via telehealth is just as clinically effective and less expensive than in-person care.
Finally, virtual health services decrease spending by enhancing preventive care. An analysis of the Veterans Health Administration's telehealth program for chronically ill veterans found virtual care reduced the average cost of every patient by $6,500, saving $1 billion annually.
The program achieved these savings in part by reducing hospital admissions and the number of days patients spend in the hospital.
Stopping telehealth in its tracks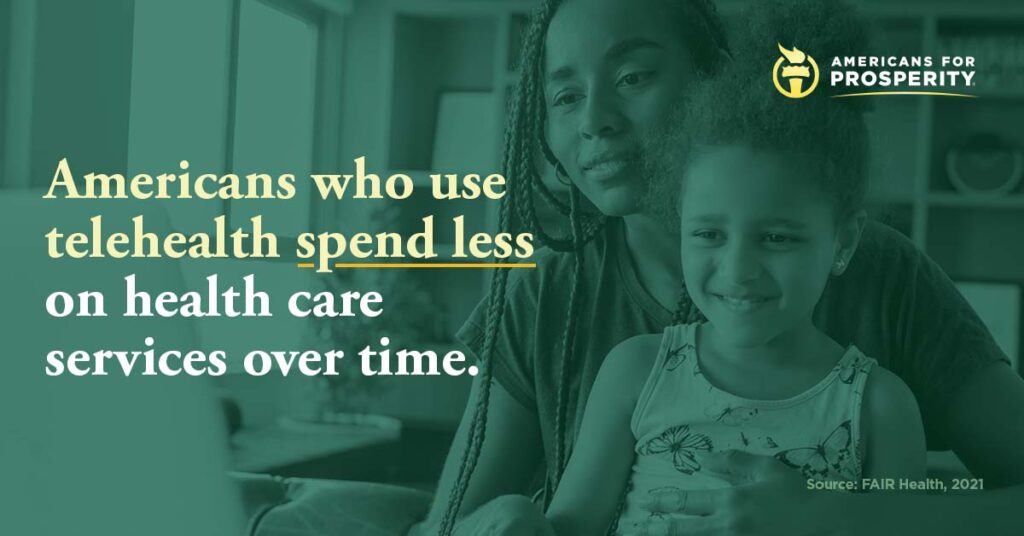 Unfortunately, when state and federal policymakers relaxed telehealth rules, they did so on a temporary basis.
Some states already have reverted to pre-pandemic rules. Relaxed federal policies will disappear once the HHS secretary declares the COVID-19 crisis over.
Kane described what's at stake if these rules aren't codified:
"Not only does telehealth increase access to care, it also has the potential to be a cost saver. With these findings in mind, policymakers on the federal and state levels can confidently take action to expand access to telehealth services before the emergency provisions expire, protecting services that have directly resulted in patients gaining access to the care they need at a lower cost."
Congress must step in — and a bipartisan group of lawmakers has pledged action.
Sen. Brian Schatz (D-Hawaii) and 59 cosponsors have introduced the CONNECT For Health Act, which would permanently extend COVID-era telehealth reforms and allow providers to deliver services to Medicare beneficiaries in every community in the United States.
Sen. Joe Manchin (D-West Virginia) has offered the Protecting Rural Telehealth Access Act, which would allow providers to offer virtual care to Medicare patients in any area of the country and permit patients to receive telehealth at home.
Manchin told AFP in a statement that:
"This vital research paper showcases the importance of telehealth services and the potential decreases in individual and taxpayer costs. Increasing awareness on the importance of telehealth services is vital, and I urge my colleagues on both sides of the aisle to support common-sense reforms, like my bill, to ensure every American has access to quality health care, regardless of where they live."
Sen. Tim Scott's (R-South Carolina) Telehealth Modernization Act is very similar.
He told AFP that:
"Throughout the pandemic, telehealth played a crucial role in ensuring all Americans — particularly seniors and those in underserved communities — could access the health care services they needed, at no risk to themselves. As this report makes clear, Congress should put the lessons learned from the pandemic into action with appropriate legislation, like the CONNECT for Health Act. Doing so will not only bolster Americans' access to quality health care today, but it will also ensure that we are better prepared for public health emergencies in the future."
Telehealth will never replace in-person care, but passing this legislation is necessary to expand access to health care, to save money — and, perhaps, to save lives.