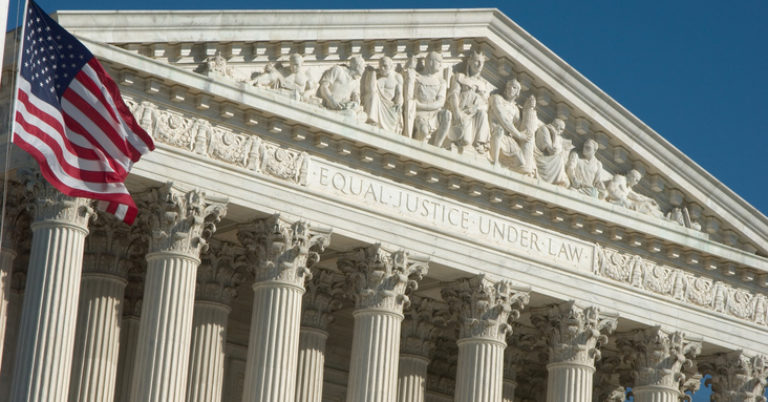 Supreme Court unanimously rules FTC must comply with the law
Today, the Supreme Court ruled 9-0 in an opinion delivered by Justice Breyer that the Federal Trade Commission must comply with the law and end its ultra vires pursuit of money damages.
The opinion presents a straightforward statutory interpretation of the scope of FTC enforcement power under Section 13(b) of the FTC Act, which allows the FTC to seek injunctions in limited circumstances but no form of monetary award.
Nevertheless, this decision, and the FTC's multi-decade crusade to expand its powers without any actual change to the law by seeking "equitable" relief to the tune of billions of dollars, implicates the separation of powers.
The unanimous opinion reinforces that agencies, which are creatures of Congress and have only the powers granted to them, cannot ignore statutory constraints and change the law through strategic litigation without involving the only branch of government competent to legislate: Congress.
This case neatly bookends the Court's earlier decision in Liu v. SEC, in which the Court likewise limited remedies to the form authorized by Congress, to confirm that the law must be enforced as written and not as an agency may with it to be.
A short proviso at the tail end of Section 13(b) authorizes the FTC to, "in proper cases," seek a "permanent injunction"— and only a "permanent injunction"— directly in federal court against a party the FTC believes "is violating, or is about to violate, any provision of law" enforced by the FTC.  That is all.
Accordingly, as the Court explained:
The question presented is whether this statutory language authorizes the Commission to seek, and a court to award, equitable monetary relief such as restitution or disgorgement. We conclude that it does not."[1]  The Court's inquiry was narrow, and Justice Breyer noted that the Court's job is not to set public policy: "Our task here is not to decide whether this substitution of §13(b) for the administrative procedure contained in §5 and the consumer redress available under §19 is desirable. Rather, it is to answer a more purely legal question: Did Congress, by enacting §13(b)'s words, 'permanent injunction,' grant the Commission authority to obtain monetary relief directly from courts, thereby effectively bypassing the process set forth in §5 and §19?[2]
The Court agreed with Petitioner AMG that if the FTC wants to obtain money damages, it must proceed through its administrative process, obtain a cease order, and then go into federal court —subject to a three year statute of limitations and other fair-notice-related procedural requirements.
The Court also rejected the use of Porter v. Warner Holding Co., a WWII-era case decided in the days when the Court focused more on effecting congressional "intent" than the plain text of a statute, to map courts' equitable powers onto materially different statutory text to expand agency authority beyond that delegated by Congress.
Other agencies — notably the SEC — have made similar use of Porter. Here, the Court reiterated the limits it recognized in Porter "that the text and structure of the statutory scheme at issue can, in so many words, or by a necessary and inescapable inference, restrict the court's jurisdiction in equity," to confirm that Porter did not "purport to set forth a universal rule of interpretation."[3]
This, hopefully, will spell an end to distorting Porter into the Swiss Army knife of statutory interpretation, capable of removing any and all constraints on agency power.
The Court also rejected FTC and its amici's public policy arguments, noting that it is Congress's job to set the public policy. The Court explained:
Nothing we say today…prohibits the Commission from using its authority under…[other provisions of the FTC Act using a different multi-step process] to obtain restitution on behalf of consumers. If the Commission believes that authority too cumbersome or otherwise inadequate, it is, of course, free to ask Congress to grant it further remedial authority. Indeed, the Commission has recently asked Congress for that very authority, and Congress has considered at least one bill that would do so. We must conclude, however, that §13(b) as currently written does not grant the Commission authority to obtain equitable monetary relief.[4]
No agency is above the law, and all agencies are creatures of statute with only those powers that Congress affirmatively conferred upon them. That is the way it must be under our constitutional structure if the separation of powers is to do its work to protect liberty.
As Justice Gorsuch explained in his dissent in Gundy v. United Sates,
[E]nforcing the separation of powers isn't about protecting institutional prerogatives or governmental turf. It's about respecting the people's sovereign choice to vest the legislative power in Congress alone. And it's about safeguarding a structure designed to protect their liberties, minority rights, fair notice, and the rule of law.[5]
As today's unanimous decision underscores, Article I of our Constitution tasks Congress with making public policy decisions through duly enacted legislation.
Free-floating administrative bodies like the FTC may not override or ignore Congress's public policy choices, regardless of whether these bodies find Congress's policy choices to be "cumbersome or otherwise inadequate." For the FTC is not a legislative body, but instead must follow Congress's intent. It did not do so here.
Likewise, courts should not be in the business of making public policy through judicial decree but must instead respect the policy choices that Congress has made in federal legislation, so long as those legislative policy choices comply with the U.S. Constitution.
Here, the unanimous Supreme Court did just that, rejecting the FTC's decades-long campaign to invade the legislative domain to unilaterally arrogate to itself new powers that Congress did not give it — and leaving the public policy issues to the branch of government constitutionally tasked with resolving those issues: Congress.
Put simply, the Supreme Court did not rule in favor of any particular policy result or "deprive" the FTC of any "tool" or powers it was actually granted by Congress.
Instead, the Court honored Congress's policy choices, including Congress's decision to limit the FTC's ability to obtain restitution and prescribe a multi-step process that the FTC must follow if it wanted to obtain that relief.
That is exactly what the U.S. Constitution tasks the judicial branch with doing and how our system of checks and balances should work, as underscored by today's unanimous decision.
The Supreme Court's ruling in AMG, coupled with last year's ruling in Liu, should go a long way to healing the havoc wrought by the lower courts' acquiescence to agency elaboration of statutory authority well in excess of the authority delegated by Congress.
Americans for Prosperity Foundation filed an amicus brief in the U.S. Supreme Court in AMG Capital Management v FTC on the merits, urging the Court to curb the FTC's use of Section 13(b) of the FTC Act to pursue multi-million (or even billion) dollar damages awards in conflict with the authority granted to it by Congress as well as in support of the petitioners on the merits in Liu v. SEC.
The common thread is agency overreach and the judicial acquiescence that has allowed these agencies to exceed — or invert — the authority delegated to them by Congress.
This commentary was coauthored by Michael Pepson. 
Americans for Prosperity Foundation frequently writes amicus curiae briefs to support other litigants and present important issues to courts. Learn more while discovering our full collection.
[1] Slip op. at 1.
[2] Slip op. at 6.
[3] Slip op. at 11.
[4] Slip op. at 14 (citations omitted).
[5] 139 S. Ct. 2116, 2135 (2019) (Gorsuch, J., dissenting).