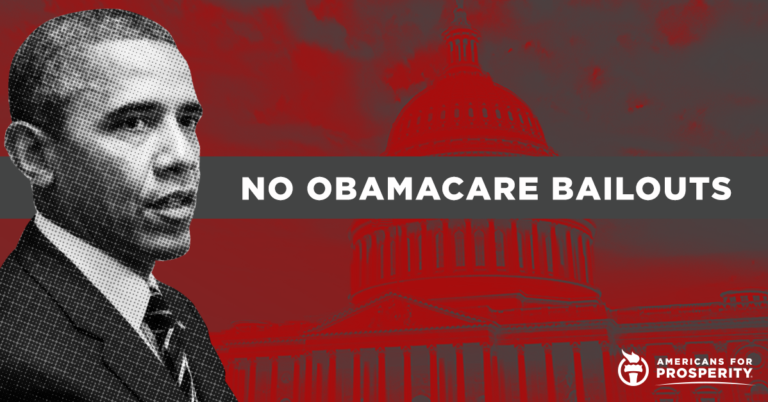 Obamacare Bailouts Aren't in the Omnibus Spending Bill. They Don't Belong in Future Spending Bills, Either.
Today the House voted to pass a pork-laden $1.3 trillion omnibus spending bill. While that's bad news, one piece of good news is that the bill doesn't include any money for Obamacare bailouts.
Meant to prop up Obamacare and its skyrocketing premiums, these proposals – including reinsurance and cost-sharing reduction payments – are nothing more than taxpayer-funded handouts to private health insurance companies. That's billions out of your pocket now boosting the bottom lines of insurance companies.
Proponents of these subsidies argue that without them, health care premiums will spike. This isn't true. There's a reason lawmakers were right to keep these payments out of the omnibus, and should continue to oppose them in any future spending bills.
Bailing Out Health Care Insurers at Taxpayers' Expense Won't Work
Throwing money at insurers has a history of failing to lower prices. The Congressional Budget Office reports that in 2016 alone, lawmakers gave billions in health care subsidies related to the Affordable Care Act, including,
$12 billion in risk adjustment and reinsurance payments.
$1 billion in marketplace grants to states.
$32 billion in premium tax credit payments.
$7 billion illegally in cost-sharing reduction payments never appropriated by Congress.
Yet premiums have skyrocketed in the years since. Propping up health insurance companies won't work.
Instead, Congress should introduce more competition and choice into the health care marketplace.
Bring More Freedom, Increased Choice into the Health Care Market
One way lawmakers can help increase freedom and lower health care costs is by extending short-term plans.
Doing so could reduce prices by 75 percent, all without putting an additional burden on taxpayers. According to one health care executive, "the average monthly family premium for short-term health plans in 2017 was $267, about one-quarter the price of an ACA plan." The White House has proposed such an extension, and legislation introduced by Sen. John Barrasso could codify it into law.
Millions of patients need lower health care costs. Spending billions of taxpayer dollars on insurance company handouts won't provide a workable solution. Congress should instead extend short-term insurance plans and make them renewable. Tell Congress: