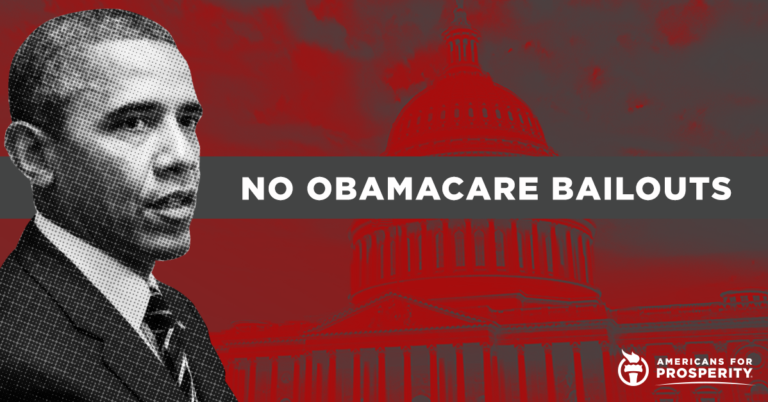 AFP Urges Congress to Push Back Against Obamacare Bailouts
As Congress considers the upcoming omnibus spending bill to fund our government, it is also considering enacting harmful bailouts to prop up Obamacare.
Americans for Prosperity's army of grassroots activists is working hard to push back against calls for these taxpayer-funded bailouts of private health insurance companies.
Proponents of Obamacare bailouts claim that sending billions of taxpayer dollars to insurance companies will lower the cost of health care premiums.
This rhetoric is deceiving. Bailouts would fail to fix Obamacare's underlying structural problems that cause health care costs to rise and would do nothing to lower premiums for hardworking Americans.
Lawmakers should instead extend short-term insurance plans and make them renewable, which can cut the cost of current exchange plans by as much as 75 percent.
Legislation recently introduced by Sen. John Barrasso, does this by expanding Americans' access to short-term, affordable health care plans.
While some consider Obamacare bailout "solutions" to be akin to reinsurance or invisible high-risk pools, we know that these proposals are nothing more than corporate welfare.
Obamacare continues to hurt the same people it was intended to help, leaving everyday Americans with fewer choices and higher health care bills to pay.
Bailing out insurance companies at a higher cost to American families is not the answer.
Tell Congress to oppose Obamacare bailouts in all future spending bills!