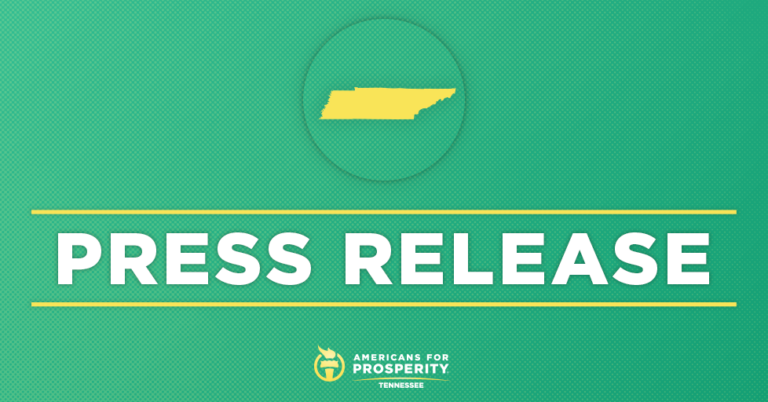 MEDIA ADVISORY: Americans for Prosperity – Tennessee to Participate in Signing Ceremony of Driver's License Restoration Bill
NASHVILLE, TN – Americans for Prosperity-Tennessee (AFP-TN) on Monday is participating in the signing ceremony of HB 839 / SB1143, a bill that allows Tennesseans with unpaid traffic citations, fines, and fees to receive a payment plan based on their financial situation and a restricted license to continue driving to work or school while paying off their debt.
Along with AFP-TN, leaders from Project Return, a leading non-profit dedicated to helping connect people with resources needed to successfully return to work and the community after incarceration, will attend the signing ceremony.
Criminal justice reform was a top priority for the organization this past legislative session. At the outset of the session, AFP-TN identified criminal justice reform as its number one issue in the group's legislative agenda.
"With the stroke of his pen, Governor Lee will help pave a path to prosperity for thousands of Tennesseans. This common-sense bill ends the policy of criminalizing poverty and enables Tennesseans to enter a payment plan to continue driving to work legally and providing for their families," said Tori Venable, AFP-TN State Director. "We thank policy champion Majority Leader Lamberth for his leadership in driving this bill through the legislature and look forward to Governor Lee signing this bill that makes our criminal justice system smarter on crime."
WHAT: Driver's license restoration bill signing ceremony
WHO: Governor Bill Lee
Tori Venable – State Director, Americans for Prosperity
Rep. William Lamberth – Majority Leader, TN House of Representatives
Bettie Kirkland – Executive Director, Project Return
WHERE: Tennessee Capitol, Old Supreme Court Chambers
WHEN: July 15th at 4:50 PM
Background:
Legislature Passes Driver's License Bill, Paves the Path to Prosperity, 4/30/19
Read State Director Tori Venable's op-ed on the recent success the legislative session had in passing substantial criminal justice reforms in the Volunteer State and previews what the legislature can do in the next session to build on the previous legislative session.