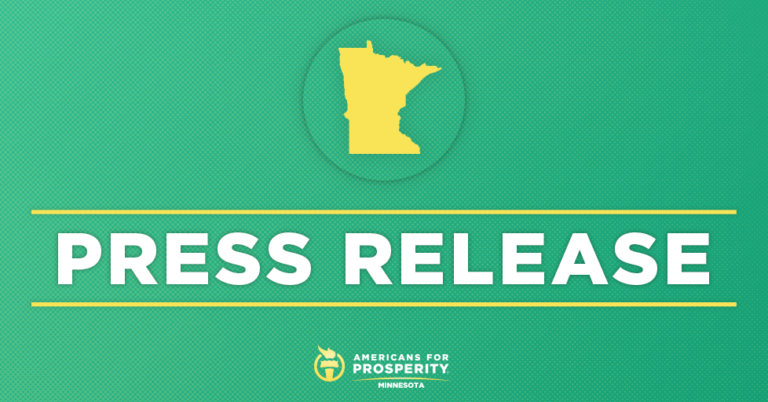 MEDIA ADVISORY: Americans for Prosperity – Minnesota to Host Session Preview with Legislative Leadership
Legislative leaders will speak with AFP-MN State Director Jason Flohrs to brief participants on upcoming legislative efforts and answer activists' questions.
ST. PAUL, MN – Americans for Prosperity-Minnesota (AFP-MN) is hosting its 2019 Session Preview on Monday, February 4th. The event will preview the legislative session with legislative leadership and share an exclusive look at what Americans for Prosperity is focusing on this year.
Nearly 100 activists from across the state are expected to attend the event. AFP-MN will welcome over a dozen legislators and feature Senate Majority Leader Paul Gazelka and House Deputy Minority Leader Anne Neu to discuss where they see opportunities this session to restore fiscal responsibility, grow the economy, and protect taxpayers. All members from both parties received an invitation to attend the event.
The Session Preview will take place at the Capitol Ridge Event Center at the Best Western Plus hotel (formerly the Kelly Inn) in St. Paul from 5:30-7:30 p.m. on February 4th, 2019.
For more information and to RSVP visit mnsessionpreview.com. Please direct all media inquiries to Jason Flohrs at jflohrs@afphq.org or (612) 247-0805.
WHAT: 2019 AFP-MN Session Kickoff
WHO:  Americans for Prosperity – Minnesota, Senate Majority Leader Paul Gazelka, House Deputy Minority Leader Anne Neu
WHERE: Capitol Ridge Event Center – Capitol Hall 2
Best Western Plus
161 Saint Anthony Avenue
Saint Paul, MN 55103
WHEN: Monday, February 4, 2019
5:30 p.m. Doors Open/Networking
6:30 p.m. Program Begins
7:30 p.m. Adjourn