Please select your state
so that we can show you the most relevant content.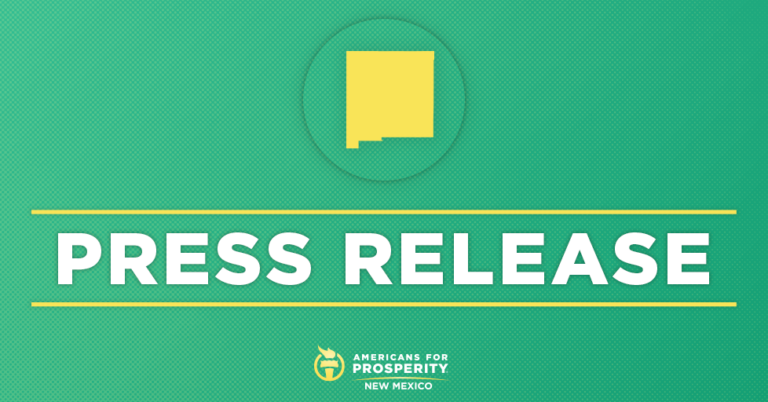 MEDIA ADVISORY: AFP-NM Hosts Press Conference with Ben & Jerry's Co-Founders on Qualified Immunity Reform
Albuquerque, NM – Americans for Prosperity-New Mexico (AFP-NM) today announced it is hosting a virtual press conference with Ben Cohen and Jerry Greenfield, co-founders of Ben & Jerry's, local business leaders, current and former lawmakers, and other criminal justice advocates to urge support for HB 4 tomorrow at 12:00PM.
HB 4 is a bill based on recommendations from the New Mexico Civil Rights Commission that would bar the use in state courts of the qualified immunity defense and make state agencies accountable when depriving citizens of their constitutional rights. AFP-NM also announced a statewide campaign today educating New Mexicans on the bill and urging them to contact their lawmakers in support of the bill.
WHAT:
HB 4, Qualified Immunity Reform Press Conference
WHO:
Georgene Louis (co-sponsor)
Ben Cohen, co-founder of Ben & Jerry's
Jerry Greenfield, co-founder of Ben & Jerry's
Diane Goldstein, Law Enforcement Action Partnership
Stephen Despin, Americans for Prosperity-New Mexico
Deborah Marez Baca, Moms Demand Action
Steve Lipscomb Founder, Board Chair of Gamers Vote, World Poker Tour
Eric Griego, former State Senator, former Chair of the State Economic Development Commission, current State Director of New Mexico Working Families
WHEN:
March 2, 2021, 12 PM MST/ 2 PM EST
WHERE:
Moderated by Barron Jones, ACLU NM
All media are welcome. Please RSVP directly to Kevin Brinegar, Edward.Erikson@gmail.com, or fill out this form.
Background:
More than 70 percent of officers themselves say that poorly performing cops are not held accountable.
AFP-NM State Director Burly Cain recently wrote an op-ed with the Innocence Project on the need for qualified immunity reform.
AFP-NM Speaks in Support of Reforming Qualified Immunity Laws, HB 4, 2/5/21
State House Passes Qualified Immunity Reform, 2/16/21
© 2023 AMERICANS FOR PROSPERITY. ALL RIGHTS RESERVED. | PRIVACY POLICY