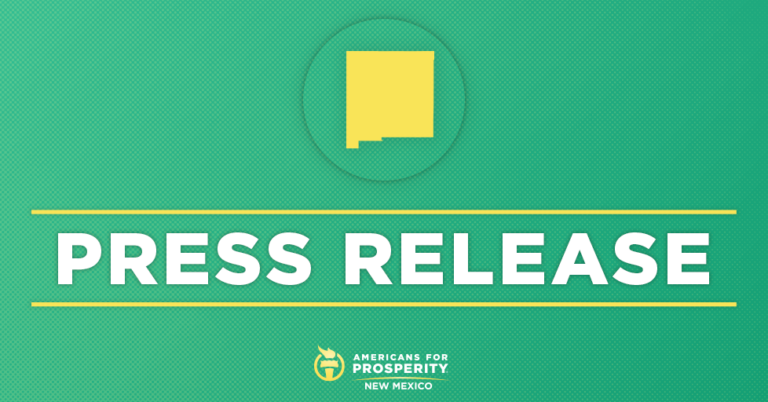 ICYMI: Right-to-Work Happening One County at a Time
AFP-NM wants all workers freed from forced union participation
Albuquerque, NM – Americans for Prosperity-New Mexico (AFP-NM) is being lauded as a key driver in the efforts to turn New Mexico into the next right-to-work success story. While the state legislature has failed over the past few years to enact common sense labor reforms to help empower New Mexico workers, AFP-NM is praising the courageous work by local officials to sponsor and pass right-to-work ordinances at the county level.
According to the NM Political Report:
"As the issue of compulsory union dues and fees for public employees is pending at the U.S. Supreme Court, one New Mexico activist group is jumping from county to county, pushing local lawmakers to ban unions from requiring money to represent private sector workers.

"In January, Sandoval County successfully passed a right-to-work ordinance after long, contentious public debates.

"After their success in Otero County, they've convinced county commissioners in Chaves, Lincoln and McKinley counties to introduce right-to-work proposals."
AFP-NM has been the most vocal advocate in the state for local governments to pass policies that empower New Mexico workers. Last September, AFP-NM launched the "New Jobs New Mexico" campaign – a robust grassroots, direct mail, and digital effort to educate citizens about the impact of right-to-work. AFP-NM first rallied in Sandoval County, which passed Right-To-Work on January 19th, and the group committed to engaging across the state to make New Mexico the next right-to-work success story.
For further information or an interview, reach BURLY CAIN at RCain@afphq.org. 
Americans for Prosperity (AFP) exists to recruit, educate, and mobilize citizens in support of the policies and goals of a free society at the local, state, and federal level, helping every American live their dream – especially the least fortunate. AFP has more than 3.2 million activists across the nation, a local infrastructure that includes 36 state chapters, and has received financial support from more than 100,000 Americans in all 50 states. For more information, visit www.americansforprosperity.org
###