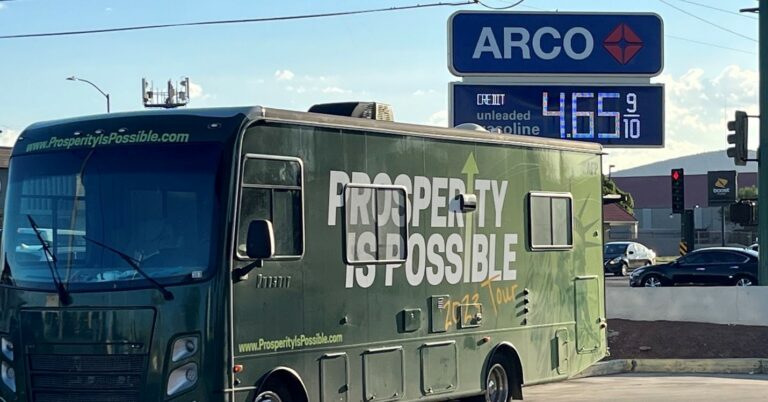 ICYMI: Motorists in Phoenix Enjoy Some Relief From Pain at the Pump
"Prosperity is Possible" RV Tour Connects Motorists to the Root Causes of Skyrocketing Gas Prices
Phoenix, Arizona—On Thursday, September 14, some 200 motorists in Phoenix got some much needed inflation relief when they went to fill up their gas tanks, thanks to Americans for Prosperity-Arizona (AFP-AZ).
As part of Americans for Prosperity's "Prosperity is Possible" Tour, AFP-AZ lowered the price of gas from $4.65 a gallon to $2.38 a gallon. How did they come up with that number?
$2.38 was the national average price of regular unleaded fuel the day President Biden took office. Arizona has at times experienced some of the highest rates of inflation in the country. Despite launching a campaign around so-called "Bidenomics," many Arizonans are still feeling the pain of rising costs.
Just this week, the Department of Labor reported that gas and grocery prices put upward pressure on the overall consumer prices index—one of the measures economists use to track inflation.
Unfortunately, it's "Bidenomics" that's driving the increase in energy costs.
Rather than make energy cheaper and more abundant, the Biden Administration has repeatedly implemented policies that reduce American energy production. Just last week, the Administration cancelled oil leases in Alaska, which threatens the stability of the Strategic Petroleum Reserve. Executive orders like that one, combined with a maze of federal regulations have prevented energy companies from fully unleashing American energy.
What starts as bad policy in Washington quickly becomes nosebleed expensive prices for gas and groceries—it's an invisible tax on Arizonans and particularly hurtful for those living on a fixed income.
So on Thursday, when AFP-AZ paid the difference between today's high prices and the pre-"Bidenflation" price from 2020, drivers were grateful and relieved. The two hour event drew quite the crowd and while people waited patiently in line for pre-inflation gas, the AFP-AZ Team heard from people about how they're coping with higher prices.
AFP-AZ Digital Engagement Director Celeste Jones recounted: "I spoke with a wonderful gentleman while filling up his motorcycle. He had just completed chemotherapy and was thrilled to share that due to our event he was able to allocate more funds towards paying down his medical bills. He said, "this helps me out more than you can imagine…a huge blessing."
Jones shared another story: "I spoke with a gentleman who shared that for over a year, he was unable to afford a full tank of gas. He was thrilled to tell me that due to this event, he was able to fill his tank and allocate more money for food and bills."
Attendees shared their thoughts about the most pressing issues facing the country, and many sent messages to their lawmakers, urging them to do something to make life more affordable—like support H.R. 1 The Lower Energy Costs Act, which would go a long way to cutting the red tape that has made energy so scarce.
This event was just one of several stops on the Arizona leg of the "Prosperity is Possible" Tour. Learn more about the campaign from Stephen Shadegg on the Jeff Oravits Show.