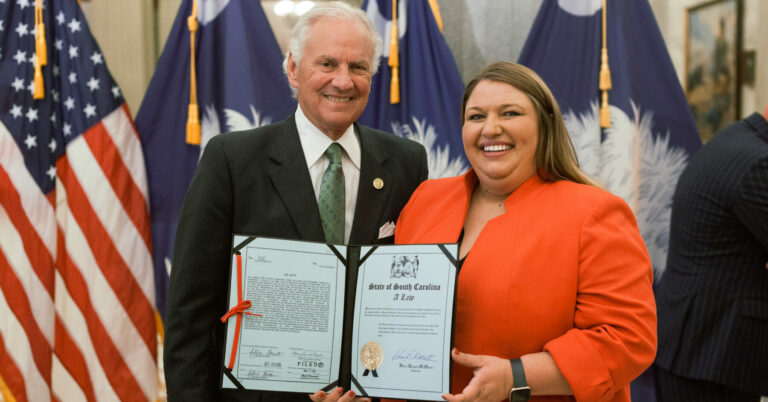 ICYMI: Americans for Prosperity – South Carolina Attended Governor McMaster's Ceremonial Signing of Certificate of Need Repeal
COLUMBIA, SC—Yesterday, Americans for Prosperity – South Carolina (AFP-SC) joined Governor McMaster at the ceremonial signing of S. 164, the State Health Facility Licensure Act.
AFP-SC was an influential leader in getting S. 164 passed and signed into law. Starting in January, AFP-SC launched a six-figure ad campaign urging the repeal of Certificate-of-Need laws. Since then AFP-SC has participated in every step of the legislative process, from the Senate passing it in February, to the House unanimously passing it in the spring, to Governor McMaster signing the bill in May.
Additionally, AFP-SC State Director Candace Carroll and House Speaker Murrell Smith published an op-ed in Becker's Hospital Review highlighting the negative impact Certificate-of-Need laws have on the health care system.
Lastly, S.164 was a large component of the AFP-SC 2023 Legislative Scorecard.
AFP-SC State Director Candace Carroll released the following statement:
"We are thankful for Governor McMaster's partnership as well as Speaker Smith's and Senator Climer's leadership on this important and successful effort. Together, we are transforming health care for South Carolinians and setting an example for the rest of the country with policy solutions that give people more personalized options and control of their health.
"AFP-SC played an essential role in making this momentous day happen and we look forward to continuing to partner with our elected leaders to empower South Carolinians to reignite their American Dream."
Photos from yesterday's bill signing can be found below: