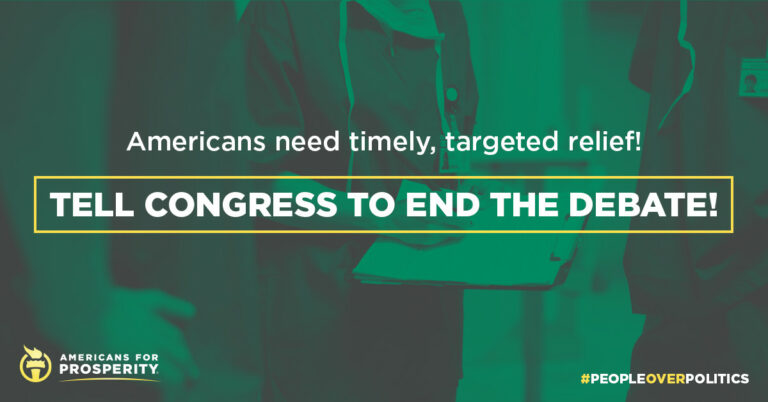 Here's what you missed during Americans for Prosperity's COVID-19 Teletownhall
Last night, Americans for Prosperity held a Teletownhall to discuss federal and state responses to the coronavirus pandemic.  
Hosts Tim Phillips, Emily Seidel, and Brent Gardner covered everything from the Senate pandemic relief bill to the emergency reforms states are passing to make sure health care is more readily available to those who need it.  
The Senate relief bill was, for the most part, timely, targeted, and temporary 
The Senate's relief bill was the result of bipartisan agreement to help businesses, health care workers, and struggling Americans. 
No legislation is perfect. Many large bills are loaded with pork and other riders that have nothing to do with the measure's main purpose. Nevertheless, this relief bill contained provisions that were timely, targeted, and temporary to help Americans in need. 
After all, as Emily Seidel said, "now is not the time to be making permanent public policy." 
This was a chance for Congress to help millions of Americans weather this crisis. 
But many lawmakers saw an opportunity for their partisan pet projects 
Speaker of the House Nancy Pelosi and Senate Minority Leader Chuck Schumer decided to make several last-minute demands that had nothing to do with COVID-19 relief.  
They wanted, among other things, more collective bargaining powers for unions, increased fuel emissions standards for airlines, an expansion of solar and wind tax credits, and other provisions of the "Green New Deal." 
These long-term pet projects had nothing to do with COVID-19, which is why the proposal was shot down. Fortunately, the Senate seems to have found agreement with the White House on another relief bill this morning.  
The new bill would send checks to many American and aids small businesses and corporations. Now, the House must review the bill and decide whether to pass it. 
The states are doing a lot to fight COVID-19 
Gardner spoke about the efforts of state governors to push emergency reforms that will increase access to health care and combat COVID-19. Many of these reforms are those Americans for Prosperity has worked toward for years. 
In several states, governors have scaled back or entirely removed their certificate-of-need restrictions, which have historically reduced the supply of care and increased its costs. In Iowa, for example, Governor Kim Reynolds has eliminated CON restrictions for the duration of this crisis. 
Telemedicine expansion, another issue that Americans for Prosperity has worked on for a long time, has also been supported by executive action in Florida, Alaska, Virginia, and New Jersey. 
Two dozen states have now approved measures to reduce unnecessary licensing requirements for physicians. This is part of an effort to bring all hands on deck to provide care to patients and fight COVID-19.  
"That's the type of help that … we need to see from elected officials and governors to ensure that we are able to have the medical professionals needed to address this crisis," Gardner said. 
Here's what you can do: Tell lawmakers to pass a COVID-19 relief bill that's timely, targeted, and temporary to help Americans in need. Now is not the time for long-term, partisan pet projects and special interest logrolling.   
Let legislators know we can't afford another delay.