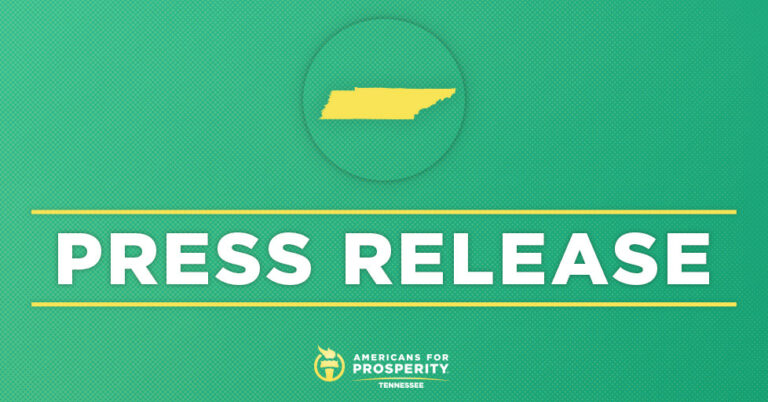 Grassroots Group Caps off Second Chance Month with Direct-Mail Push
Americans for Prosperity – Tennessee applauds legislative leaders for making important progress on smart on crime reforms
NASHVILLE, TN – Americans for Prosperity – Tennessee (AFP-TN) today launched a direct mail campaign inviting Tennesseans to call on their elected leaders who have supported policies to reform our criminal justice system during the 2019 legislative session. The direct mail campaign is part of a national effort highlighting transformational progress across 10 states and comes as the nation recognizes Second Chance Month.
AFP-TN is thanking lawmakers for supporting policies that make our justice system smart on crime and soft on taxpayers and encouraging them to continue their efforts. The grassroots group is thanking the following lawmakers:
Steven Dickerson and Rep. Michael Curcio for working to restore voting rights for people with felony records who have completed their sentences.
Raumesh Akbari and Rep. William Lamberth for sponsoring legislation to help people drive legally with a restricted license while paying off their traffic fines.
Jon Lundberg and Rep. Jeremy Faison for carrying bills to expand citation in lieu of arrest practices in certain situations, keeping families together and saving taxpayer dollars.
View Akbari Mail
View Lamberth Mail
View Dickerson Mail
View Curcio Mail
View Lundberg Mail
View Faison Mail
AFP-TN state director, Tori Venable released the following statement:
"Our criminal justice system should recognize that people who make mistakes are capable of self-transformation and contributing to society in a positive way. We applaud members in the Senate and House for creating a safer and more taxpayer-friendly Tennessee by supporting second chances for people who want to improve their lives.
"These leaders are helping end the cycle of criminalizing poverty and ensuring we provide a second chance for people to become productive members of their community. We encourage the Tennessee legislature and Gov. Lee to continue pursuing policies that are smart on crime and soft on taxpayers, and we invite anyone who supports this approach to criminal justice to join us."
Background:
At the outset of the legislative session, AFP-TN identified criminal justice reform has its number one issue in its legislative agenda. The group has spearheaded efforts to restore voting rights to people with felony records who have completed their sentences and provide people the opportunity to continue to drive who are paying off traffic fines. Several criminal justice reform bills are moving through the legislature, and a bill that Governor Lee and AFP pushed to eliminate the $180 expungement fee is now awaiting the governor's signature.
Read State Director Tori Venable's op-ed on why criminal justice reform is needed in the Volunteer State here.
The reforms come on the heels of President Donald Trump signing into law the federal First Step Act, which AFP proudly supports and encouraging legislatures to implement similar reforms at the state level.
The new law, one of the most significant reforms to the criminal justice system in decades, is already working to give many people a second chance. AFP is now pushing Congress and the Trump administration to fully implement and fund the law, so that its full benefit will be realized.
Click here to see our national action page.