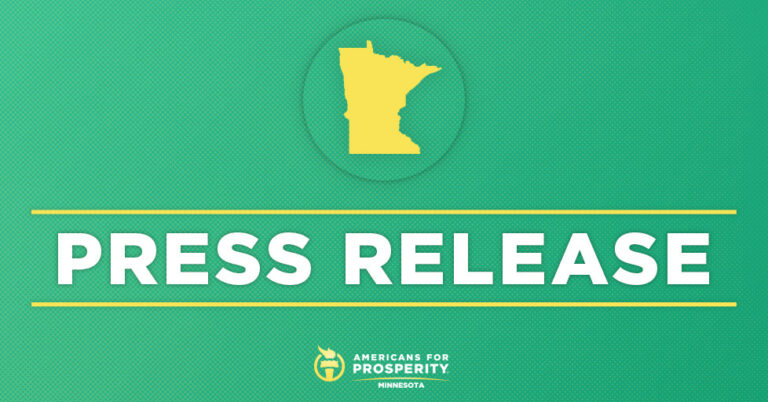 Governor Walz's High Tax Budget Continues Fiscal Mismanagement
AFP-MN urges legislature to reject governor's budget, focus on tax relief and accountability
ST. PAUL, MN – Following Gov. Walz's budget address, Americans for Prosperity-Minnesota (AFP-MN) today urged the legislature to reject his budget that raises taxes on Minnesota families and businesses and does little to reform out-of-control state spending.
AFP-MN believes the state should instead rein in spending and look at ways to reform long-term, structural budget problems, address waste and fraud within state programs, and seek out innovative ways to restore free-market solutions to address the state's challenges.
AFP-MN State Director Jason Flohrs issued the following statement:
"With Minnesota already among the highest-taxed states in the nation and projected to collect nearly $2 billion over budget projections in the current biennium, now is not the time to raise taxes – on anything. Yet Governor Walz' budget is riddled with harmful and unnecessary tax hikes on Minnesotans at every income level – including $1 billion in new gas and transportation taxes and a $1 billion health care tax increase. Even worse, most of the tax and fee increases he is proposing hit hardest those Minnesota families already struggling to make ends meet."
"Governor Walz' tax and spend budget is the wrong approach for increasing opportunity for Minnesota families, taxpayers, and employers. Doubling down on the same big government solutions that are currently rampant with mismanagement and overspending, while doing nothing to reform or add accountability, will make Minnesota a less competitive, less prosperous, and less desirable place to live and work."
Background:
Governor Walz' budget proposal would result in another nearly double digit increase in state spending with more spending increases on tap for subsequent bienniums as new programs are fully phased in. No other measure of economic well-being – GDP, personal income, CPI, or even Minnesota's population – is growing at a rate that could justify the irresponsible increase in state spending that Governor Walz is calling for.
According to the Tax Foundation, Minnesota has one of the worst individual tax climates in the country. Making matters worse, Walz's budget calls for a 20-cent per gallon increase to the state's gas tax—a roughly 70 percent increase from the current tax. Minnesota would have one of the most burdensome gas taxes in the country with just a 10-cent increase.