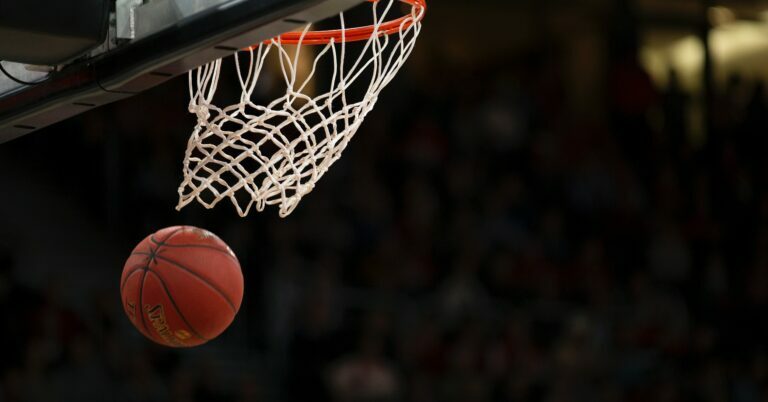 From free throws to free speech: A March bracket based on defense of the First Amendment
It's March! As a rabid college basketball fan, I love this time of the year. I've already started adjusting my calendar to make sure that I can watch the early rounds — which are quite possibly the best part of the whole sports year.
But as a First Amendment attorney, I have a unique handicap in watching the tourney. I've worked on university free speech issues for two decades and sued about 35 universities. In fact, I've either sued or been involved in matters dealing with free speech problems at 22 of the 68 participants in this year's NCAA tournament.
Most normal people watch a basketball game and just think about basketball. But I'm also reminded of the far too common terrible speech codes and speech zones at many of these schools or their treatment of a speaker or student group.
No, I'm not normal.
This got me thinking — there's a lot that goes into winning in March: solid guard play, free throw shooting, defense, among others. But what if the schools that were good at free speech were also the best at basketball?
How would the actual NCAA tournament bracket play out if teams advanced based on their commitment to free speech?
Fortunately, my friends at FIRE have released free speech rankings of universities based on evaluations of the schools' policies and handling of free speech controversies.
So, armed with that information, I give you the Champions of Free Speech: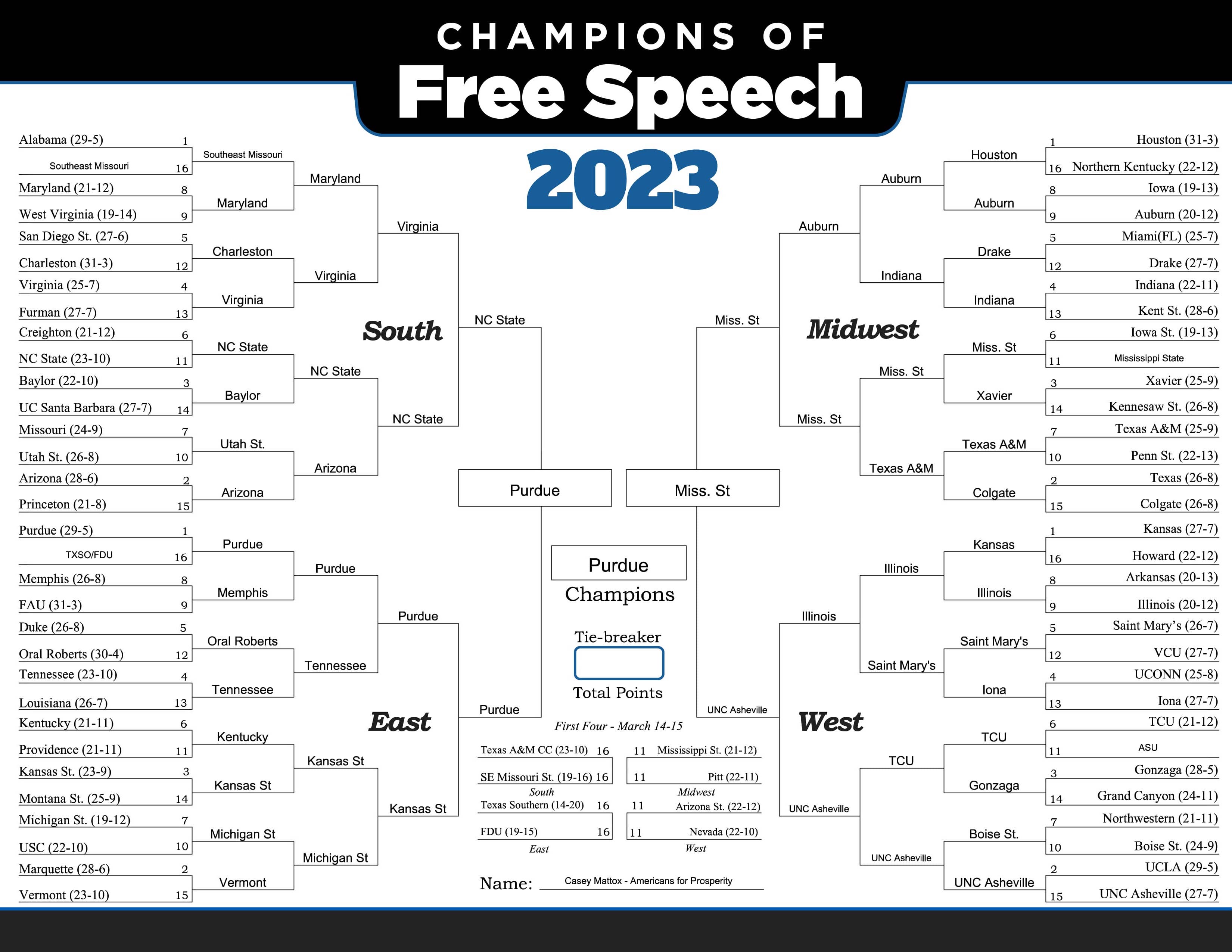 South Region
Alabama may be the overall #1 seed in the actual tournament, but when it comes to free speech, Alabama is an early round loser.
The school has long had troubling speech policies, even among its SEC peers:
It's ranked a weak #81 in FIRE's rankings.
It's presently in court against Young Americans for Liberty and the ADF Center for Academic Freedom challenging a state law that would guarantee that the university respect its students' First Amendment rights.
But there are some bright spots in the South region, with Maryland, UVA, and Arizona all having respectable showings in FIRE's rankings and "green lights" for their written speech policies.
In the end, North Carolina State gets the finalist nod from the South with its overall #9 free speech ranking. NC State wasn't always a free speech champion (I did sue them once), but as the Martin Center notes, it has made slow and steady progress over the last decade.
East Region
The selection committee did Purdue and Kansas State no favors by placing two free speech champions in the same bracket. It's almost as if they weren't even thinking about the fact that Kansas State is #2 and Purdue #3 among all universities in the country in FIRE's free speech rankings.
Both universities have distinguished themselves among public universities in their commitment to free speech: eliminating all unconstitutional speech policies, adopting the Chicago Statement on free speech, and effectively handling controversies on their campuses in ways that respect First Amendment freedoms.
In a close fight worthy of a title game, I give the nod to Purdue based on its history of commitment to these principles (Purdue was the first public university to adopt the Chicago Statement) and remarkably strong administrative commitment to free speech.
Otherwise in the East Region, Vermont pulls off the huge upset over NCAA's #2 Marquette. This has more to do with Marquette's #184 (!) ranking and its failed attempt to actually sanction a faculty member for standing up for a student's freedom to speak.
The Wisconsin Supreme Court held that while Marquette is a private college not bound by the First Amendment, it is bound by its own promises to respect the academic freedom of its faculty. (Kudos to my friends at the Wisconsin Institute for Law and Liberty for that important win.)
Also, down goes #109 Duke.
Midwest Region
The Midwest is perhaps the weakest free speech region with multiple lower-tier free speech teams, including #79 Houston, #80 Indiana, #180 Texas, #108 Pitt, #152 Colgate, #118 Kent State, and #129 Miami. Others not on the rankings at all, like Kennesaw State, have employed problematic free speech policies in the recent past. And Texas A&M and Penn State are among FIRE's 10 Worst Colleges for Free Speech in 2023.
But, as much as it pains me to say, that just makes the path easy for #22 Auburn, clearly winning the battle against rival Alabama for best in state.
And while it'll be in a play-in game for the actual tournament, Mississippi State has vaulted up FIRE's rankings to #4 overall with an impressive institutional commitment to free speech that's translating to the student body.
So, while the Bulldogs may have a challenging run in the NCAA tournament, Mississippi State is the clear winner from the Midwest Region in the Champions of Free Speech bracket.
West Region
The West has more than its share of smaller private colleges that don't yet have FIRE free speech rankings, including Gonzaga, St. Mary's, and Grand Canyon University. That, and the fact that private colleges don't have the First Amendment obligations that public universities do, makes the region a little tougher to evaluate.
But that doesn't mean they're immune from controversy: Followers of campus speech will recall both Grand Canyon and Gonzaga shutting down invitations for Ben Shapiro to speak a few years ago.
At #44, Illinois takes down Kansas (top seeded in the actual bracket but #72 in FIRE's rankings) and advances to the regional finals. But the bottom half of the bracket is much more tightly contested.
#2 UCLA does come in at a respectable #36 in FIRE's rankings. But what to do with UNC Asheville? UNC Asheville doesn't yet have its own independent campus ranking from FIRE.
But we do know that it, like UCLA, has a green light speech policy.
We know that North Carolina state law, unlike that in California, further guarantees free speech on North Carolina campuses.
And we know that other UNC system campuses that do appear in FIRE's rankings all rank highly (#26 Chapel Hill; #7 Greensboro; #13 Charlotte).
I'm giving the nod to UNC Asheville on the strength of the UNC systemwide support for free speech. It then defeats Boise St (which got by Northwestern, among the worst in FIRE's rankings at #197), and goes on to an improbable national semifinals run.
So that's it.
If the NCAA tournament was decided based on the colleges' commitment to free speech, the four finalists would North Carolina State vs. Purdue and Mississippi State vs. UNC Asheville! Hopefully I don't have to remind you that you should not use this information for gambling purposes.
While this is probably not how the actual tournament will play out, free speech should nevertheless be highly relevant to those students and their parents actually making college decisions over the next two months.
Free speech allows us to test and explore ideas, and universities, when functioning as designed, have been called the "marketplace of ideas." So, as you're considering where to spend the next four years, FIRE's rankings are a great tool to discover how different universities prioritize free expression and how that might impact your education.
Enjoy the games! If you'd like to follow along with my free speech bracket, you'll find it on ESPN under the Americans for Prosperity group here:
And while you're there, please join us! Submit your own bracket, whether based on free speech, mascot names, or actual basketball. There's no charge. Just a fun way to follow along with your favorite fellow Champions of Free Speech.
Civil liberties are the solution to uncivil times. Join the defense of Free Speech and subscribe to Casey's newsletter today: