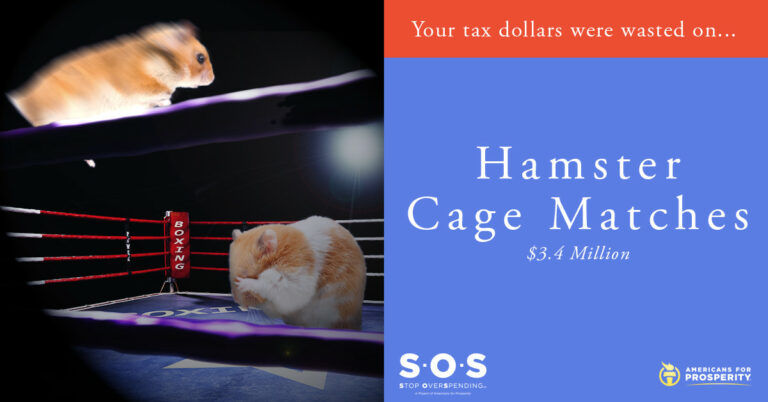 Five Outrageous Ways the Federal Government Has Wasted Your Money (Part II)
The federal government is no stranger to out-of-control spending. The national debt has now reached a startling $21 trillion!
That's not all: Congress recently passed an omnibus spending package that will cost $1.3 trillion. But wasteful federal spending doesn't stop there.
The federal government has misused your money on various pet projects, both large and small, over the years. It's time to expose this waste.
Read on to discover five more absurd examples of government waste, as described in Sen. Jeff Flake's 2017 Wastebook report.
$1.5 Million Spent Studying Fish on Treadmills 
University of California – San Diego study spent a $1.5 million grant from the National Science Foundation to measure the endurance of mudskipper and bluegill fish on a treadmill.
Sounds like a fishy use of taxpayer funds!
While the National Science Foundation regularly gives grants to universities for research purposes, that taxpayer-funded research is best when it has some tangible benefit for the American people who pay for it.
$1.7 Million Spent on a Comedy Club Featuring Dead Comedian Holograms
The U.S. Department of Commerce spent $1.7 million to help construct a comedy museum in Jamestown, New York that will "resurrect" dead comedians – from Lucille Ball to George Carlin – in the form of holograms.
The holograms will perform in a basement bar for visitors of the National Comedy Center, as a way to attract tourists to Jamestown.
While tourists might chuckle at the holographic comedians, the $1.7 million bill for the project on the taxpayer's dime is no laughing matter.
$3 Million Spent Studying the Jaws Theme and People's Perception of Sharks 
In 2016, taxpayers funded a $3 million National Science Foundation grant to study the public's fear of sharks in relation to the Jaws theme song and music played during documentaries.
Researches noted, "this study specifically highlights the need to raise the public's awareness of the effect of background music in shark documentaries in hope that it would decrease the extent by which they are affected by it."
With federal debt soaring, the feds should work to be better stewards of our tax dollars and ensure that every research project funded is a worthwhile use of those dollars. Spending $3 million to study the Jaws theme's impact on shark perception is not.
The Department of Defense Spent $2.4 Million to Learn How to Get More "Likes" on Social Media  
The Department of Defense funded a $2.4 million study to "counter misinformation or deception campaigns with truthful information," as part of the Defense Advanced Research Projects Agency's Social Media in Strategic Communications program.
The researchers examined 1.1 randomly selected photos on Instagram and analyzed numbers of follower on social media accounts.
More than $2 million is a hefty price tag for taxpayers to spend on research that could (and has) easily been done by private groups.  
$3.4 Million Spent on Hamster Cage Matches  
Over the past twenty years, the National Institutes of Health has spent $3.4 million studying aggression and anxiety in more than 1,000 male hamsters.
The study, sponsored by the National Institute on Drug Abuse, involves pitting juvenile male hamsters against each other at Northeastern University in Boston.
Much like a hamster wheel, our national debt continues to spin out of control. It's time for the federal government to stop wasteful spending on pet projects and use our hard-earned tax dollars in a more responsible manner.
While many of these examples may seem funny, wasteful spending is no joke.
The federal government has spent millions of your hard-earned tax dollars over the years on pointless projects, and the cost borne by current and future taxpayers only continues to grow.
Tell Congress to stop wasting our hard-earned tax dollars and cut wasteful and egregious spending as they write the FY 2019 spending bills.