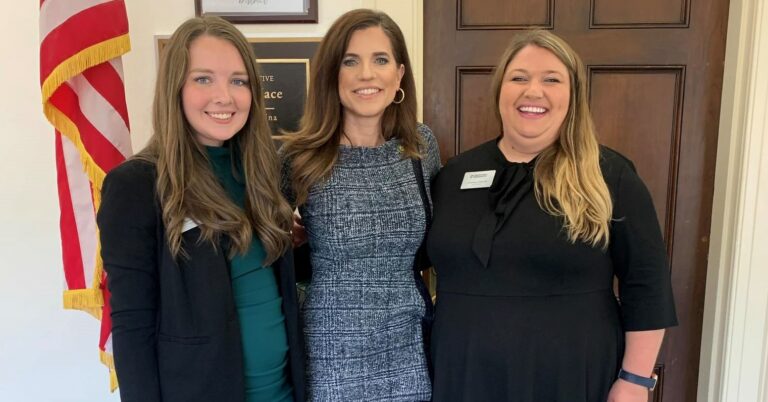 Capitol Conference 2023 embodies the importance of speaking face-to-face with lawmakers
Washington, D.C. – On an overcast July morning, Ashley Klingensmith, state director of Americans for Prosperity-Pennsylvania, was 117 miles from home, standing on Capitol Hill for a whirlwind week meeting with legislators.  
"Just got to Rayburn," she shared in a video to her staff and volunteers. "Ready to get the day started. We have seven meetings today, and I know state directors from across the organization have more than 200 meetings booked. So, we cannot wait to get going, to scale your voice. It is our privilege every single day of the year."  
Klingensmith and her AFP colleagues descended on D.C. for AFP's annual Capitol Conference. Every year, AFP flies in its grassroots leaders from across the country to meet with their federal lawmakers to discuss issues that directly affect their local communities.  
For three days, AFP staff talked face-to-face with their senators and representatives, sharing personal stories about how policies coming out of Washington are affecting people's lives.  
"We brought postcards with us from our volunteers and our activists back home, so that they can see exactly what our constituents are saying and what they care about the most," said AFP-Tennessee State Director Tori Venable. "We hope to expand a little freedom and opportunity while we're here." 
Mack Morris, AFP-Texas' director of external affairs, explained the importance of these meetings: 
"The great thing about Capitol Conference is going directly to a member and their staff explaining what's going on in the district, what the feelings are, and the opinions of people – and that people want solutions. They don't want the oversized, top-down government from Washington, D.C." 
AFP Senior Federal Affairs Liaison Lauren Stewart concurred, saying,  
"There's nothing that packs quite the punch as when our grassroots leaders who are entrenched with their grassroots communities come and sit in front of their federal lawmakers on Capitol Hill and back up what our [federal government affairs] team has been saying."  
The issues AFP discussed with lawmakers during Capitol Conference 2023 
This year, grassroots leaders advocated policies from Pathways to Prosperity, AFP's federal legislative agenda:  
Inflation and the high cost of living burdening everyone. 
Energy, especially how the Biden administration's policies have restrained production and driven up costs. 
The budget – Capitol Conference took place just after the disastrous budget showdown on the Hill 
Pro-worker legislation, like the Employee Rights Act, which would expand worker freedom and flexibility 
Health care, specifically the Personal Option, to give Americans greater control over their care 
Immigration reform, where leaders were encouraged to support solutions for border security 
It's this emphasis on policy solutions that makes AFP's visits unique. "We're driving solutions in those areas, which is where we really distinguish ourselves as an organization," Stewart said. "We're the organization…that has the solutions from a policy and grassroots perspective to our nation's problems, and that's what we bring to lawmakers."   
"It's incredibly important for AFP and the grassroots to be available to help members of Congress with solutions," Morris added. "Our capabilities, from policy to communications and our state-based teams give us an edge when we meet with and make asks of members of Congress." 
At the end of the week, state directors felt their fly-ins were successful.  
"Our members and the staff were excited about the work we're doing on the ground and it's always good to connect on the ideas to help make this country even better," said AFP-Iowa State Director Drew Klein. 
"We wanted to meet directly with the member, not the staff, this year. That was a goal, and we achieved it!" exclaimed Klingensmith, for whom this was her fourth Capitol Conference.  
For her part, Klingensmith can't wait to come back next year. "I cannot wait to do it in 2024, and just look forward to the opportunity every year."