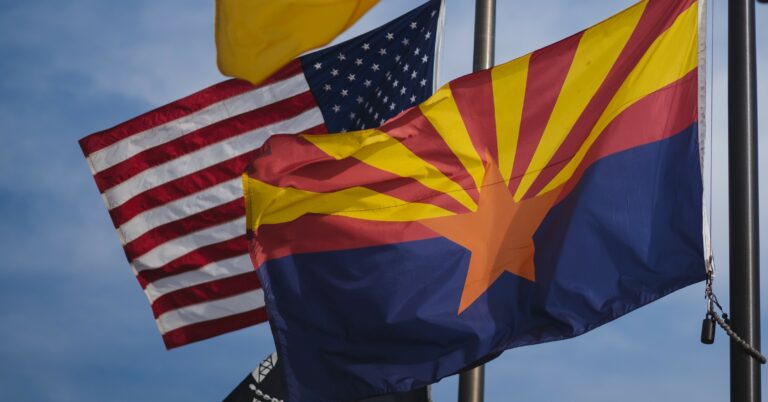 Historic legislative session produces a more prosperous and inviting Arizona
Americans for Prosperity-Arizona set its sights high for the 2021 legislative session.
In January, we produced our Pathway to Prosperity, our plan to:
Increase economic opportunity for all.
Improve access to educational options for Arizona families.
Ensure the criminal justice system operates fairly, is more restorative and just, and prioritizes safer communities.
Promote innovation in technology, health care, and other regulatory processes.
As a team effort between AFP-Arizona activists and policy champions, 2021 was more successful than we could have imagined – it truly was one for the record books.
As a result, Arizona will continue to be a prosperous and inviting state for everyone.
Here's a look at everything you helped us accomplish this year.
Creating more economic opportunity with historic tax reform
This legislative session saw one of the biggest tax reforms in recent state history – reducing every Arizonan's personal income tax by flattening the state tax rate to 2.5 percent and creating an income tax rate cap of 4.5 percent.
We saw a need for aggressive tax reform in Arizona due to an increase in income taxes on small businesses and a significant surplus in the state budget.
When we proposed big income tax reductions in late 2020, policy champions leapt at the opportunity to put more money into the hands of Arizona families to make their own decisions.
Through unparalleled grassroots efforts and the dedication of activists, legislators and AFP-Arizona staff, historic tax relief was passed. This generational reform will leave a legacy of prosperity and opportunity for all Arizonans.
Achieving greater educational freedom by increasing mobility and reforming open enrollment
Educational mobility: We helped pass transportation microgrants for families that utilize public school options but had been unable to fully exercise their preferred educational environment for their student due to the barrier of lacking transportation to a school that best fits their child's needs.
Reforming open enrollment: By working with coalition partners and activating grassroots activists, we helped make open enrollment a more fair and transparent process that highlights a lottery system for schools that allow for families to send students to any public school within the district. This will make it easy for Arizona children to have the opportunity to attend the public school that best fits their needs, not just the one serving their ZIP code.
A more efficient and just system through criminal justice reform
Data transparency: Through unanimous votes in the Senate and House of Representatives, we were able to enact criminal justice data transparency into law. This reform authorizes the Arizona Criminal Justice Commission to collect existing data from state and local criminal justice agencies and compile it into a comprehensive data survey. This law serves as a first step to identifying policy solutions that safely reduce the costs of the criminal justice system on Arizona families, communities, and taxpayers.
Civil asset forfeiture: After years of hard work, we passed meaningful bipartisan civil asset forfeiture reform. These changes ensure a person is criminally convicted before their property can be subjected to forfeiture by the government. The law also outlines a timely process for property to be returned to owners if it is not tied to a criminal offense. This is a well-deserved win to protect all Arizonans' property rights.
Common sense prison reform: With widespread bipartisan support, we were able to see the Dignity for Incarcerated Women Act pass this year.
This policy addresses the circumstances in which women are treated during their time in Arizona's prisons and will ensure the state's corrections system more appropriately respects the inherent dignity of every person.
The Dignity for Incarcerated Women Act:
Ensures incarcerated individuals are given access to feminine hygiene products.
Mandates that mothers are placed in a prison within 250 miles of their minor child.
Places more limits on male correctional officers conducting inspection or search on female incarcerated persons in a "state of undress."
Forbids the dangerous practice of shackling of pregnant incarcerated women.
Driver's license suspension reform: Through a unanimous vote in the Senate and House of Representatives, Arizona improved how driver's license suspensions are handled for reasons not justified by public safety. This new law allows a court to waive civil penalties, mitigate fines, and rescind suspensions and restrictions of driving privileges when related to failure to pay civil penalties. The intent behind this is to ensure that hardworking Arizonans will be able to continue to pay off their fines and fees while providing for their family – without the counterproductive burden of having their driver's license suspended.
Leading the way on innovation and technology
Rural broadband property rights: AFP-Arizona led the charge on upholding Arizonans' constitutionally protected property rights by allowing Arizonans to install antennas on their own private property for the purpose of broadband internet connectivity. This law prohibits governments from unreasonable delays or cost of installation and preventing reception of acceptable signal quality. Because of this law, more Arizonans will have access to high-speed internet, resulting in the state continuing to be a leader in wireless deployment.
Experimentation with autonomous vehicles: Arizona will continue to lead in technology and innovation thanks to H.B. 2813, which addressed autonomous vehicles. This codifies a preexisting executive order by Governor Doug Ducey to allow Arizona to continue enabling the state where autonomous vehicles can innovate and develop. The bill works with other state agencies to outline elements of road and public safety.
Expanding access to quality health care
Health care sharing ministry freedom: Years in the making, AFP-Arizona played a key role in the passage of S.B. 1048. This bill modifies the definition of a "health care sharing ministry," which levels the regulatory playing field for all health care ministries by giving Arizona more access to quality and affordable health care options.
Historic expansion of telehealth: Arizona will continue to be a leader in telehealth through the passage of comprehensive telehealth expansion. This policy was widely supported and will dramatically improve all Arizonans' access to quality healthcare options!
Reducing regulations
Occupational licensing process reform: With AFP-Arizona taking the lead on this bill, the legislature passed sunrise and sunset occupational licensure reform. This law outlines the process by which each committee of reference must evaluate alternatives to licensure for non-health professions, whether through the sunrise or sunset process. The intent is that each committee will facilitate a more substantive conversation about overregulation designed to keep new competition out of the market and make recommendations to the legislature for removing unnecessary regulations.
Pandemic Liability Protection: Timely to the COVID-19 Pandemic, S.B. 1377 passed, helping address the liability of a person or "provider" that acts in good faith to protect a person or the public from injury from the pandemic. This protects small businesses, nonprofit organizations, and others acting in good faith from being held liable for the effects of a pandemic.
To-go alcohol freedom: An activist favorite, H.B. 2773 passed, allowing "cocktails to go" for restaurants and bars. In the spirit of cutting red tape and allowing restaurants to continue meeting the needs of customers during the COVID-19 pandemic, an executive order by Governor Doug Ducey to permit to-go alcohol was codified into law.
These wins are only part of the many successes that AFP-Arizona saw in the 2021 legislative session. For a more detailed list of successes, be on the lookout for our upcoming 2021 legislative scorecard.
Because of the work of the state chapter and your much-needed help, Arizona is on a more prosperous track that will promote opportunity for all Arizonans.
Thank you to each volunteer that sacrificed personal time to make phone calls, send emails, sign postcards and participate in the legislative process during an unprecedented time.
This is only the beginning for Americans for Prosperity-Arizona, so stay informed about what's going on in Arizona on Facebook and Twitter.