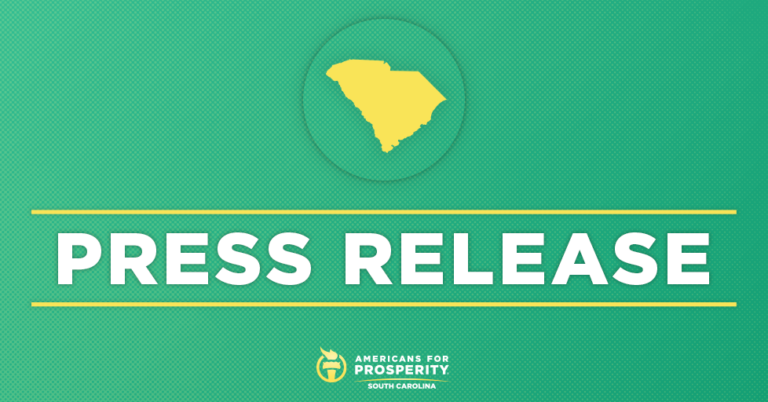 An Evening with Matthew Charles, State of the Union Guest and Criminal Justice Reform Advocate
Grassroots group partners with first beneficiary of First Step Act and leading statewide criminal justice reform advocates to discuss accomplishments of criminal justice reform, goals for statewide reforms
ROCK HILL, SC – Americans for Prosperity-South Carolina (AFP-SC) announced it is hosting an event on criminal justice reform with Matthew Charles on Tuesday at Winthrop University. Matthew Charles was President Trump's State of the Union guest last year and the first beneficiary of the First Step Act that was signed into law by President Trump.
The event will feature Matthew Charles' personal story of overcoming barriers and becoming one of the nation's leaders on criminal justice reform. Attendees will also hear criminal justice reforms being considered in the Palmetto State that will help break barriers for people to improve their lives.
"We're excited to host this event with Matthew Charles – an incredible person who shows how people can become productive members of their communities when given a second chance. Students and attendees will hear from one of the leading voices on this issue and see the benefits a smart on crime, soft on taxpayer approach can have for our criminal justice system," said Candace Carroll, AFP-SC State Director of Grassroots Operations. "This is a great opportunity to hear how the First Step Act and evidence-based reforms can help people like Matthew Charles earn a shot at redemption and reclaim their lives."
What: An evening with Matthew Charles
Who: Matthew Charles, First Recipient of the First Step Act and criminal justice reform advocate
When: Tuesday, February 11th, 6:30-8:00 PM
Where: Richardson Ballroom, DiGiorgio Campus Center at Winthrop University
2020 Alumni Dr.
Rock Hill, South Carolina, 29733
All media are invited to RSVP by emailing Kevin Brinegar at kbrinegar@afphq.org.
Background:
Matthew Charles is the first beneficiary of the First Step Act. In 1996, he was sentenced to 35 years in prison for felony drug and firearm violations in Tennessee. He'd served 21 years when the sentencing guidelines changed to address the disparity between crack and powder cocaine sentences.
In 2016, Matthew filed a petition based on the change in the guidelines. He was released after a federal judge ruled that he should benefit from the 2010 Fair Sentencing Act, a law that reduced sentences for crack-related crimes.