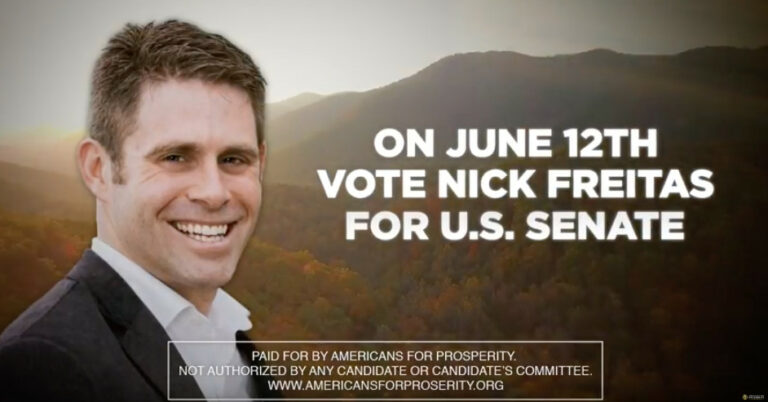 Americans for Prosperity Supports Nick Freitas for United States Senate
ARLINGTON, VA – Americans for Prosperity, the nation's largest grassroots advocate for policies that advance a society of equal rights and mutual benefit, announced its endorsement of military veteran and Virginia delegate Nick Freitas in his campaign for United States Senate.
Nick Freitas has been a champion of economic freedom in Virginia and has publicly supported policies that remove barriers to opportunity and empower citizens to improve their lives and communities, including on important issues like free trade, criminal justice reform, and spending restraint.
AFP President Tim Phillips had this to say:

"As a member of the Virginia House of Delegates, Nick Freitas has been a strong voice for the people of Virginia. He has a record of supporting policies that promote freedom and empower people to improve their lives and communities. We urge Virginians to support him."
"Nick Freitas has earned our support by backing up his rhetoric with a record of leadership on tough issues," said Americans for Prosperity-Virginia State Director JC Hernandez. "His record in the Virginia House of Delegates is one of commitment to protecting our fundamental freedoms and fighting for policies that will allow families and communities to flourish. Nick Freitas is the best choice to represent the Commonwealth in the United States Senate and we will be throwing the full-strength of our grassroots network in Virginia behind his campaign."
Nick Freitas supported federal tax reform that put more money back in the hands of hardworking families. He stood firm during Virginia's special session this past month, refusing to vote for a state budget that included expanding a broken Medicaid system under Obamacare. He has publicly defended the benefits of free trade by highlighting the crippling effects tariffs would have on our economy.
Americans for Prosperity will tap into the energy of thousands of activists and volunteers throughout Virginia with digital ads, grassroots engagement and phone calls to mobilize supporters to vote for Nick Freitas.
For further information or to set up an interview, please send an email to GBraud@afphq.org.
Americans for Prosperity (AFP) exists to recruit, educate, and mobilize citizens in support of the policies and goals of a free society at the local, state, and federal level, helping every American live their dream – especially the least fortunate. AFP has more than 3.2 million activists across the nation, a local infrastructure that includes 36 state chapters, and has received financial support from more than 100,000 Americans in all 50 states. For more information, visit www.americansforprosperity.org
###