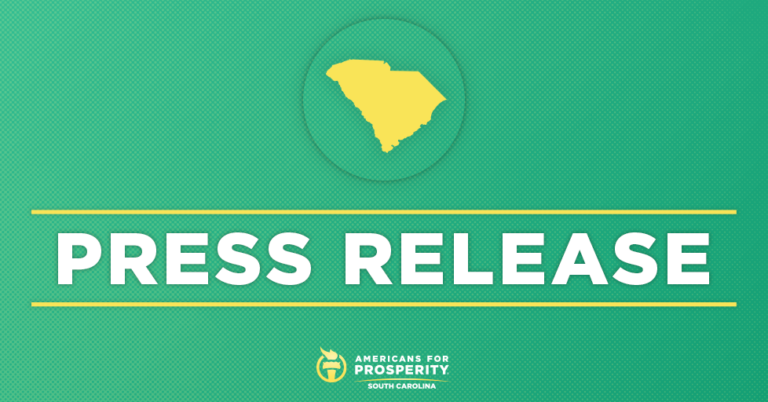 Americans for Prosperity Promotes Candace Carroll to South Carolina State Director
COLUMBIA, SC – Today, Americans for Prosperity-South Carolina (AFP-SC) announced that Candace Carroll had been promoted to State Director for the chapter. Since installed as interim state director in April, Carroll had various wins, including getting legislation back on track during the final week of the session that will fully repeal certification of need laws in the Palmetto State. This legislation is ready to be taken back up on the floor once the session resumes.
"I know the strength that rests in each of us as leaders and change-makers within our respective communities. This became evident during the pandemic when our activists and volunteers rose to the challenge during the pandemic," said AFP-SC State Director Candace Carroll. "I'm eager to build on the momentum this dedicated group created in the final push of session to remove barriers within our health care system. Fully repealing certificate of need laws in our state remains our top priority so that we can increase access to quality and affordable care for all."
Carroll is an upstate SC native who has served with AFP for a total of five years. Before joining the organization in 2016 as a field director, she served on Jeb Bush's presidential campaign and development roles for The Heritage Foundation and Winthrop University. She graduated from Winthrop University in 2009 with a Bachelor of the Arts in Political Science: Public Policy & Administration.
Carroll has provided commentary to several news outlets from Greenville to Charleston, including the Post and Courier, WPSA, WCAB, 106.3 The Word's Charlie James Show, and 94.5 The Morning Answer with Joey Hudson. She also spearheads several statewide policy coalitions, including but not limited to Repeal of Certificate of Need, Criminal Justice Reform, and K-12 Education Reform.
"Since joining our group just four years ago, Candace has emerged as a true leader within the chapter and organization. She has been a rallying force behind our grassroots efforts inspiring everyday citizens and lawmakers alike to drive lasting, bottom-up public policy solutions," said Former AFP-SC State Director Andrew Yates. "I'm fortunate to leave this group in her capable hands as she continues to help South Carolinians across the state reach their version of the American Dream."
Yates has accepted a new role with our partner, yes. every kid, an organization committed to giving every student and family the ability to access an individualized education.