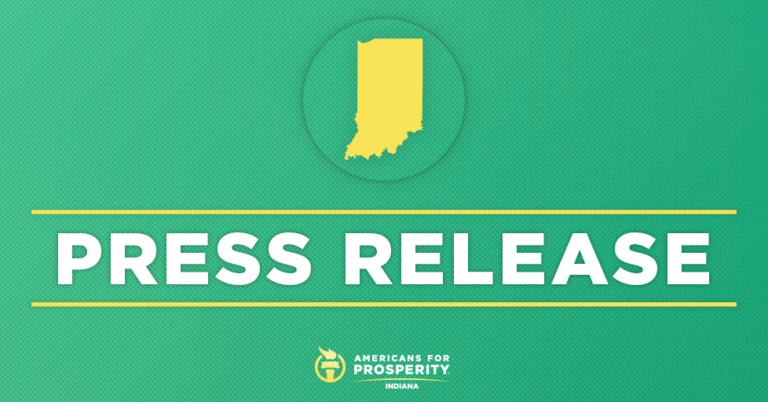 Americans for Prosperity-Indiana Announces State Legislative Endorsements
INDIANAPOLIS, IN – Americans for Prosperity-Indiana (AFP-IN) today announced its support for five state legislative candidates running in November's elections. These individuals earned the support of AFP-IN for their dedication to tackling the greatest challenges Hoosiers face.
AFP-IN is supporting these candidates through a variety of tactics, but most importantly, leaning on the strength of its grassroots activists in reaching voters.
AFP-IN State Director Michael Chartier issued the following statement:
"We are excited to support these exceptional candidates that will help set our state on a path of economic growth and opportunity for every Hoosier. By working to keep more money in families' pockets, expanding educational opportunity for all students, and increasing access to quality, affordable health care, these candidates will help improve the lives of Hoosiers. We're ready to hit the ground running to help get these principled leaders elected."
Chris Jeter (HD-88):
A small business owner and member of the Navy Reserve, Chris Jeter will bring a wealth of knowledge and leadership to Indianapolis. Through his professional experiences as a JAG officer and private practice attorney, Chris Jeter understands we need to make our criminal justice system smarter on crime and softer on taxpayers. If elected, Jeter will also work to remove barriers on workers, families, and businesses to help them thrive. AFP-IN looks forward to supporting Chris Jeter for the Indiana House of Representatives, as he works to lead Indiana forward.
Martin Carbaugh (HD-81):   
Rep. Martin Carbaugh championed educational opportunity, working to increase access to an education that works for every Hoosier student and family. If re-elected, Rep. Carbaugh will continue to fight to remove government barriers that make it easier for jobs and businesses to recover, and for Hoosiers to live their version of the American dream.
Scott Baldwin (SD-20):
A U.S. Marine Corps veteran with more than 25 years of military and law enforcement experience, Scott Baldwin is committed to criminal justice reforms that will make our communities stronger and safer. As a small business owner, Baldwin understands we need to remove red tape so our businesses can recover – stronger than before. Scott Baldwin, if elected, will also champion educational opportunity and support reforms that ensure students, not buildings or bureaucracies, are at the center of our education system.
Todd Huston (HD-37):
Speaker Todd Huston is a champion for educational opportunity, working to help Indiana students and families access an education experience that works for them. Speaker Huston also supports fiscal responsibility and will ensure government lives within its means – as every Hoosier family is forced to do. If re-elected, Speaker Huston will also work hard to ensure Indiana jobs, businesses, and economy recover stronger than before through reducing red tape and lowering taxes.
Jake Teshka (HD-7):
Jake Teshka has proven to be a principled leader in the South Bend community. If elected to the state House, Teshka will champion policies that help Indiana's economy rebuild stronger than before. Teshka will also fight for educational opportunity, so all students have a chance to succeed, and for better health care, that families can afford.
Paid for by Americans for Prosperity. Not authorized by any candidate or candidate's committee. americansforprosperity.org.