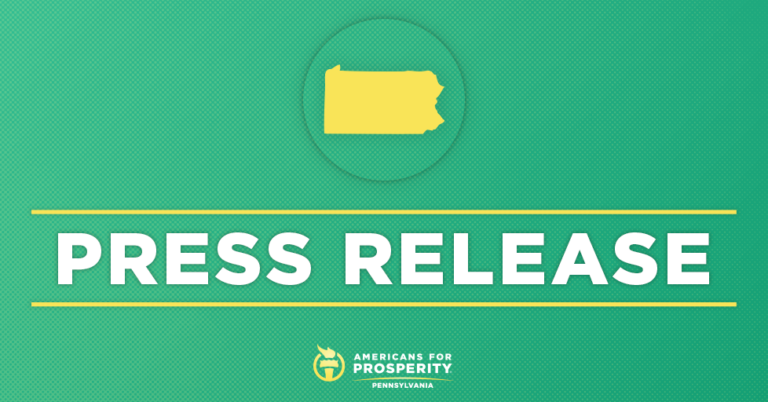 Americans for Prosperity Finds Taxpayer Protection Act Popular in Keystone State
Pennsylvanians Want to Put the Guardrails Up on Spending in Harrisburg
HARRISBURG, Pa. – Today, Americans for Prosperity-Pennsylvania (AFP-PA) released a new survey by Susquehanna Polling and Research that shows by a 64:23 margin, PA voters want to put limits on annual increases in government spending, an idea embodied in the Taxpayer Protection Act legislation recently proposed in the House and Senate. Key findings from the survey highlight nearly universal support that shows that voters want a stronger say in spending decisions made by their legislators.
Support for this legislation is bipartisan, including 73 percent of Republicans, 65 percent of Independents, and 53 percent of self-identified Democrats. Other key outcomes include the following:
By a 46:16 margin, Pennsylvania voters already think the state government spends too much on a yearly basis when it comes to taxpayer dollars for general operations.  This suggests voters have little appetite for excessive spending, particularly when it comes to expenditures not considered core functions of government.
Poll respondents were asked which they agreed with more: increasing or limiting funding for government programs. Over half of respondents (54%) preferred limiting how much the state spends on a yearly basis.
Strong majorities of Pennsylvania voters want the option to have their voices heard directly on public policy issues at the ballot box, including 84 percent who support putting a constitutional amendment on the ballot that would limit the annual growth of state General Fund spending.
View Infographic Here
AFP-PA State Director Ashley Klingensmith issued the following statement:
"Harrisburg's ever increasing spending habits are making an already bad situation worse, shifting the burden from lawmakers to taxpayers. But Pennsylvania policymakers can protect your family's hard-earned money by putting up the necessary guardrails on spending through the Taxpayer Protection Act. The voters have spoken, and a spending limit is what they want. We urge House Majority Leader Kerry Benninghoff to defend the citizens of the Commonwealth by holding this vote without delay."
Methodology:
This poll is commissioned by Americans for Prosperity-PA and conducted by Susquehanna Polling and Research, Inc. Interviews were conducted September 8-13, 2021 with 501 registered/likely voters in Pennsylvania. Survey respondents are randomly contacted using random selection procedures, and all telephone interviews are conducted using live telephone agents. The sample frame was compiled using random telephone sequence methods, and includes both landline and cellular households, purchased from a certified list vendor. Only known registered voters were contacted, compiled from a list of households with prior vote history in 1 of 4 or better general elections. Voters who registered to vote after the 2020 general election are included and also eligible to participate.
Interviews are closely monitored to ensure a representative sample of the Pennsylvania electorate is achieved based on party registration, geography, gender, age and other demographics; results are sometimes statistically weighted to adjust for coverage bias or non-response error. The margin of error for a sample size of 501 interviews is +/-4.38% at the 95% confidence level.
Full poll results may be found here. Learn more about AFP-PA efforts to support the Taxpayer Protection Act here.