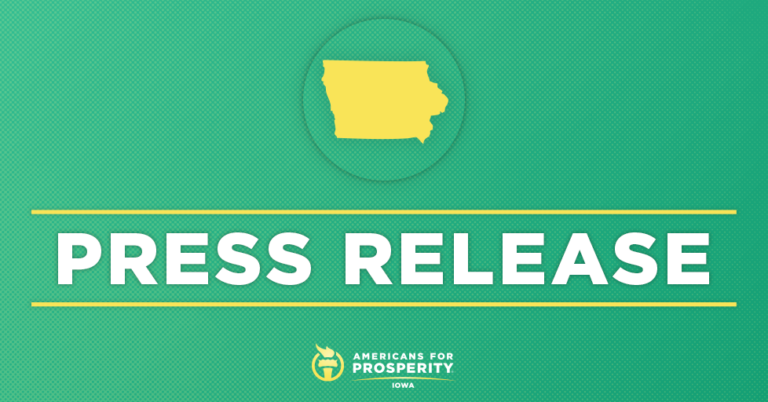 Americans for Prosperity Endorses Additional Candidates for the Iowa General Assembly
DES MOINES, Iowa – Americans for Prosperity-Iowa (AFP-IA) today announced its first general election endorsements following their successful engagements in 8 state legislative primaries. In addition to working to ensure that those first 8 candidates are successful in November, they will support seven additional candidates running for election and re-election to the Iowa General Assembly: Rep. Brooke Boden (HD-21), Sen. Craig Johnson (HD-67), Sen. Tim Kraayenbrink (SD-04), Sen. Jason Schultz (SD-06), Rep. Phil Thompson (HD-48), Sen. Jack Whitver (SD-23), and Taylor Collins (HD-95). These candidates earned the support of AFP-IA for their commitment to championing principled policy solutions that put people over politics to help create greater opportunity across Iowa.
AFP-IA will continue to leverage its unmatched grassroots strength, among other tactics, to connect with voters and urge them to support these candidates.
AFP Iowa State Director Drew Klein issued the following statement:
"These candidates have demonstrated a commitment to Iowa values and their dedication to expanding economic opportunity, empowering families to choose the best education for their children, and increasing access to personalized health care will help keep Iowa on the path to a brighter future. Iowans have a track record of caring more about a candidate's ideas than their political affiliation, and our activists are excited to get out in their communities and mobilize voters in support of these candidates and their ideas ahead of November's election."
Rep. Brooke Boden (HD-21):
Rep. Boden is an active leader on education reform. From co-sponsoring a transformative education savings account (ESA) bill to voting to expand education opportunity pathways for all students, including charter schools and open enrollment, she will continue to stand up for Iowa families. Boden has also been an advocate of free speech issues, sponsoring legislation to expand free speech protections for high school students. Boden also supports lowering taxes on hardworking Iowans and reining in government spending.
Sen. Craig Johnson (HD-67):
As a State Senator, Johnson has consistently championed pro-business and job growth policies to help Iowa families and businesses thrive. In the House, Johnson will continue to support legislation to eliminate burdensome regulations, expand educational opportunities for every child, and lower taxes so families can keep more of what they earn.
Sen. Tim Kraayenbrink (SD-04):
As a member of the Education Committee, Sen. Kraayenbrink has consistently championed commonsense reforms to expand educational opportunities for every child across the state.  He has also supported legislation to reduce both corporate and individual income taxes so more Iowans can thrive. Additionally, Kraayenbrink will fight to cut waste and unnecessary spending while prioritizing a balanced budget.
Sen. Jason Schultz (SD-06):
Sen. Schultz has been an active and vocal leader for Iowa workers, working to ensure they have the freedom they deserve to better provide for themselves and their families. Schultz has championed occupational licensing reforms so individuals can pursue their career without needless government barriers. Schultz also supports stronger fiscal responsibility and eliminating job-killing regulations that hurt Iowa's economy.
Rep. Phil Thompson (HD-48):
Rep. Thompson is deeply committed to increasing economic opportunity for all Iowans. In office, Thompson has been a staunch advocate of rolling back burdensome regulations stifling Iowa's economy and has supported legislation to reform occupational licensing laws to help break the barriers Iowans face as they enter the workforce.
Sen. Jack Whitver (SD-23):
Sen. Whitver is committed to protecting Iowans' tax dollars and is fighting to make Iowa one of the most tax competitive states in the country. In office, Whitver will continue to fight for solutions to the challenges Iowans face through a limited-government approach. Whitver will also be a reliable voice in the effort to empower Iowa parents with greater choice in their children's education.
Taylor Collins (HD-95):
Taylor Collins knows it's time to prioritize the taxpayer and will fight tirelessly to reign in wasteful government spending and lower taxes so families and businesses can succeed. Collins also supports expanding educational opportunities so every child can pursue the education that fits their unique needs.