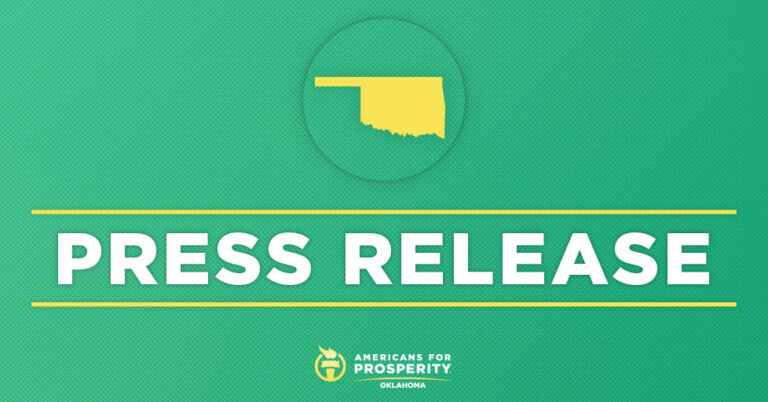 Americans for Prosperity Applauds Efforts to Integrate a Work Requirement into Medicaid
OKLAHOMA CITY, Okla.—Americans for Prosperity-Oklahoma (AFP-OK) on Wednesday applauded the ongoing efforts in Oklahoma to include work requirements to the state's Medicaid program.
"We applaud Governor Fallin for her forethought and leadership, which we believe will go a long way to help the state's medically needy populations. These efforts, along with necessary Medicaid audits will ensure that Oklahoma is a model for reducing dependency and fraud while expanding opportunities for everyone in our state," said AFP-OK State Director John Tidwell.
On Tuesday afternoon, Governor Fallin issued Executive Order 2018-05, which instructs the OK Health Care Authority to file the necessary waivers and state plan amendments to incorporate a work requirement in the Medicaid program.
"Oklahoma can become a leader in state budget reforms and this executive order, coupled with Rep. Mulready's work requirements bill are big steps forward in that effort," Tidwell continued.
"Rep. Glen Mulready's diligence and consistent leadership to positively reform our state's health insurance has set Oklahoma on a solid footing to be a national leader; a win-win for those who need the assistance and our state budget as well," Tidwell added.
The efforts to seek a work requirement will ensure that those who are receiving Medicaid assistance from the state are both eligible to work and will help them attain personal independence rather than a dependence on the state.
The Oklahoma House also passed HB2932 which would prohibit enrollment in Medicaid unless the individual is working or volunteering more than 20 hours per week, averaged over the course of a month. The bill passed by a margin of 63 to 26.
The waivers will now be considered by the U.S. Centers for Medicare and Medicaid Services, and are likely to received approval. CMS approved a similar waiver request from Arkansas earlier this week.