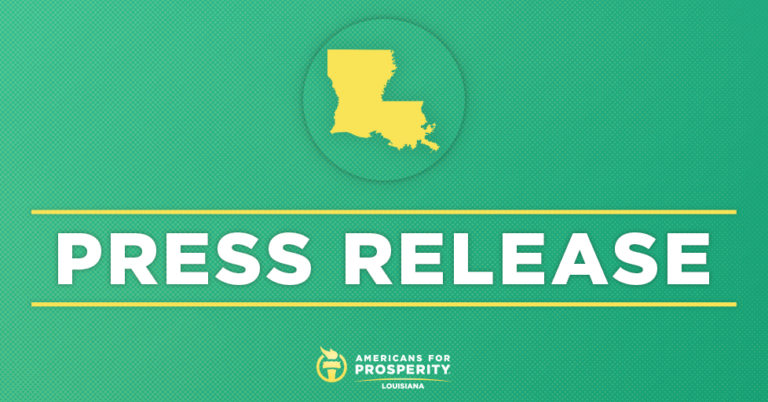 Americans for Prosperity Announces Renewed Commitment to Improving the Lives of All Louisianans
BATON ROUGE, LA—Americans for Prosperity-Louisiana (AFP-LA) today announced its renewed commitment to improving the lives of all Louisianans and increased focus on community building across the state. As part of the announcement, AFP-LA introduced its new State Director, Matthew Hurtt. The grassroots organization is also excited to announce the promotion of James Lee to Deputy State Director. Hurtt and Lee will lead a team of engagement directors focused on building community among activists in Monroe, New Orleans, Baton Rouge, Lafayette, and other areas across the state.
"Louisiana can be a leader on criminal justice reform, educational opportunity, health care innovation, and fiscal and budgetary stewardship. I look forward to working with policymakers, stakeholders, and dedicated Louisianans across the political spectrum to build a strong foundation for prosperity and opportunity in the Pelican State," said Hurtt.
"To ensure more Louisianans can achieve their American dream, we will continue our focus on building community and working alongside our dedicated activists across the state, " added Lee.  
Hurtt brings more than a decade of grassroots organizing, issue advocacy, and fundraising experience to AFP-LA and previously served as Director of External Relationships for Americans for Prosperity Foundation's Grassroots Leadership Academy.
Prior to Americans for Prosperity Foundation, Hurtt worked in fundraising, campaign management, and helped organize college students to break down barriers on campus and in their communities. He has also written public policy commentary for a number of outlets and appeared on local, national, and international broadcast programs as a commentator.
Hurtt prides himself on his ability to bring people of diverse perspectives together to break down barriers that stand in the way of people realizing their potential.
James Lee is a long-time member of the AFP-LA team and native of Metairie, Louisiana. Most recently, Lee served as Director of Grassroots Operations where he oversaw statewide grassroots efforts for the organization. Prior, Lee served as a Field Director, engaging and empowering hundreds of activists and building community in Baton Rouge. He will work hand-in-glove with Hurtt to lead the Louisiana chapter.
For further information or an interview, reach Nicole Tardif at NTardif@afphq.org or (571) 329-0161.